International
SIS Students Use IPCR Skills in Middle East Peacebuilding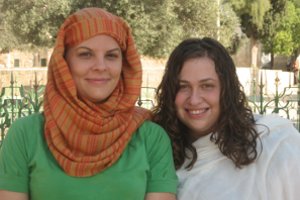 They held signs that read "End the Occupation." Standing elbow-to-elbow with men and women of different colors and faiths, two SIS graduate students made a statement without saying any words. 
Jen Lauda, SIS/MA '09, and Emily Siegel, SIS/MA '08, along with 21 other participants from the U.S. and other countries, spent two weeks traveling through areas of conflict in Israel-Palestine as members of the Interfaith Peace-Builders (IFPB). The women were kept busy throughout their fortnight in the Middle East; they met with members of both factions, focused on the actions of non-violent activists and peace-builders, and learned about the United States' involvement in the conflict.

Both women are members of the International Peace and Conflict Resolution (IPCR) community at SIS, and felt drawn to the Middle East for different reasons. Lauda has ties to the region based on her religion: "as a Christian, I knew of historical sites such as Bethlehem, Jerusalem, and Nazareth, but really had no idea about the issues surrounding the conflict at these places."

Similarly, Siegel, who is Jewish, explains that her heritage first brought her to the region, and its issues kept her interested: While [visiting Israel in high school,] my group happened on a peace rally occurring outside of [Ehud] Barak's house, as he had just returned from Camp David.  The peace rally touched me in a way that is hard to even describe, and from that point on, I knew I had to be involved in peacebuilding, particularly in this region."
IFPB's goals, as indicated by its mission statement, are to understand the role of the United States in the Israeli-Palestinian conflict, lead groups to Israel/Palestine, and "advance[e] the work of Israelis and Palestinians committed to nonviolent struggle and peace with justice. We seek to empower delegates to educate their local communities and the media, counter unfair or inaccurate stereotypes, and advocate for a more just US foreign policy."

Professor Joseph Groves serves as an adjunct faculty member in the IPCR division, and, since 2001, has served as a senior fellow with IFPB. The organization complements the skills learned in IPCR, according to Groves. "Our delegations focus on Israelis and Palestinians engaged in nonviolent resistance, so the delegation focus is a central aspect of IPCR work. It gives students eyewitness experience in what it means to engage in nonviolent resistance, what it means to resist your own government (in the case of Israelis), and how some of the practical tools of nonviolence actually look in practice. The follow-up work that delegates do in the US gives valuable experience in participating in educating and advocating for peace and for changed governmental policy," he notes.

Whether or not they are members of IPCR, or have a specific interest in the mediation work in the Middle East, students can involve themselves with peacebuilding groups like IFPB. Groves adds, "by participating in delegation and engaging in follow-up work here in the US, students can help change the conversation about the conflict, highlighting the work of nonviolent activists, and working to change US policy."