Achievements
SIS PhD Student Wins National Graduate Student Paper Award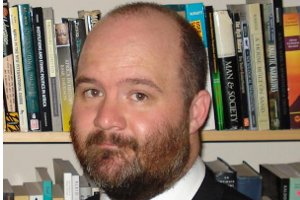 The International Studies Association (ISA) honored SIS student Dylan Craig, SIS/PhD '10, with the ISA-ISSS Best Graduate Student Paper Award for 2009.
The award, for his paper "Ultima Ratio Regum: Remix Or Redux? State Security Policy and Proxy Wars in Self-Governing Africa," meant all the more, because he almost didn't even enter.
The PhD student in International Relations was presenting the paper at the October 2009 ISA Convention in Monterey, California. While he was "passionately interested in" the topic, had enjoyed writing the paper, and felt confident about its chances for the award, "there were so many other excellent presentations at the ISSS-ISAC conference that I almost decided to not submit it after all," explains Craig. "Luckily, I got into a discussion with another PhD candidate from CUNY who felt the same way as I did, and she and I made a pact to submit our papers anyway."
Barely a month later, the head of the selection committee contacted Craig to tell him that this paper, the first Craig had ever submitted to a contest, had won.

In his paper, Craig examines "transsovereign war" (a form of violence often referred to as "proxy war") in Africa, and posits that "ideologically bounded military alliances between states and non-states, in geopolitically significant spaces, may represent the future of state security policy, rather than its dysfunction in regions where formal military power and state capacity are lacking."
After graduating, Craig looks to return to teaching – he had lectured at Rhodes University in South Africa prior to beginning his work at SIS – and expanding his work from AU, which focuses on "a mix of general topics - sovereignty, the global geopolitics of force, security - and more specific ones related to African conflict." But he doesn't want to stop learning and attending other conventions. Indeed, he will be attending the ISA's March 2010 conference in New Orleans to present a paper on transsovereign war and receive his award.
"I've tried to make a point of attending two to three conferences every year since I moved into the last stretch of my PhD. Each conference has a slightly different dynamic and you derive different benefits from each of them," Craig notes. "But what they all have in common is that they give you a chance to test yourself and your ideas, and that's incredibly important to me."