Achievements
SIS Fall Dinner Honors Promising Student, Veteran Faculty Member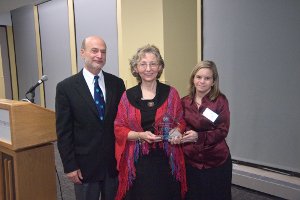 November 19th's School of International Service (SIS) Alumni Chapter Fall Dinner celebrated both the achievements of a longtime SIS faculty member and the possibilities ahead for an SIS student.
Dr. Linda Lucia Lubrano was honored as the SIS Faculty Member of the Year, having taught courses in social science, specifically those dealing with Russia and Italy, international relations, and comparative politics. Besides an introduction by SIS Dean Louis Goodman, speakers honoring Dr. Lubrano included Professor Abdul Aziz Said, the Mohammed Said Farsi Chair of Islamic Peace, Associate Professor Emeritus William Kincade, and Bishop Frank J. Dewane of Venice, Florida, a former student of Dr. Lubrano's.
"We're honoring Linda Lucia Lubrano because of her remarkable impact she's had on students over the forty-plus years of her teaching at this school, and the leadership that she's shown in faculty governance and creating new projects," noted Goodman.
In her own remarks, Lubrano acknowledged the importance of an intergenerational faculty and staff, and the resulting potential for growth: "'Who we are' is affected not only by our elders and contemporaries, but also by the younger generations we work with – and, in this setting, that means the women and men who have joined our faculty in the last 10-15 years," Lubrano explained. "In some ways, their road at AU is more difficult today than it was forty years ago – there are more people, more programs, and more institutional layers to negotiate. I respect their talents and their courage, and I know they will succeed."
Earlier in the dinner, members of the SIS undergraduate class of 1967 presented the first Class of 1967 prize to recipient Stephanie Ayeh, SIS/BA '10. Kathy Kline, SIS/BA '67, and Charlotte Jones Carroll, SIS/BA '67 were inspired to lead their classmates in creating the award. They explained its purpose as "a distinction that will continue the re-connection to SIS that many of us felt who attended the 40th reunion at SIS/AU." In establishing the award, the alumni wanted to not only honor their classmates, but offer recognition to a promising student.
The prize, given in memory of the deceased members of the SIS class of 1967, honors "the SIS international undergraduate who best exemplifies the ideals of the school." Ayeh, who hails from Ghana, holds a near-perfect GPA, and works on campus as an economics tutor and serves as a resident assistant. Her volunteer activities include interning at the Ghanian Embassy, and, at AU, serving as the president of the African Students' Organization, the chaplain of the American University Gospel Choir, and helping with both new student and international student orientations.
In her remarks, Lubrano noted that the workings of a university depend on the interactions of all of its members. "In thinking about what I would say tonight, I saw a kaleidoscope of interactions that have helped to shape who I am; I saw images of colleagues, students, and friends in a floating dance of memories … to alumni and alumnae, faculty, students, and staff members:  This is your school; it is your university," concluded Lubrano. "You can keep what you value, you can honor the traditions at SIS and AU that make you proud; you can change what you think falls short of your expectations.  And, years from now, when you reflect on your own history at AU, remember those whose lives touched yours."