In Remembrance
SIS Community Gathers to Remember Professor, Colleague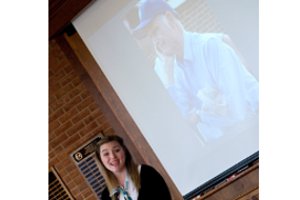 Faculty, staff, former students and friends assembled on December 9, 2009 to remember Professor F. Gunther Eyck, who passed away in October 2009 at the age of 97. He had been a member of School of International Service (SIS) faculty for almost fifty years, and remained a member of its community until his death. 
Remembrances were offered by faculty members Abdul Aziz Said, the Mohammed Said Farsi Chair of Islamic Peace and Stephen Silvia, an associate professor in the International Economic Relations program. Staff members Maria Green Cowles, the associate dean of academic affairs, and Joe Clapper, the assistant dean of facility and administration, spoke lovingly of their friend and colleague. Alumna Laura Halick, SIS/BA '91, a former student of Eyck's, sang, according to his wishes, "My Country 'Tis of Thee."

The speakers commented on Eyck's belief systems – "He was on the mark, a son of the Enlightenment … he lived by three 'Old World' values: duty, honor, and integrity," commented Silvia. They noted his civility, kindness, and devotion to his students. Often, Eyck would inquire about his students: their backgrounds, their interests, in a genuine desire to know more about them. "I've never seen a faculty member anywhere who learned about his students like Gunther did," Silvia remarked. He made his friends his family, Halick said, remembering how Eyck insisted on taking her grocery shopping after her husband was deployed to Iraq, and visiting her in the hospital when her daughters were born.
In their remarks, both Silvia and Clapper referred to excerpts from "Wallenstein's Camp," a play by Friedrich von Schiller, which Eyck had long ago asked both men to read at his memorial service. The parts Eyck chose concerned men riding into battle, feeling the freedom of almost certain death. Silvia's translation from the German included the line "If you do not risk your life to the full, you will never truly live it," which both men, in their speeches, agreed represented Eyck's lifelong philosophy.
Eyck, a native of Germany, emigrated to Palestine in 1933 upon the rise to power of the Nazis. He served in the British Army's Royal Corps of Signals and the Army Educational Corps, and emigrated to the U.S. soon after. Having received his M.A. and PhD from New York University and an M.Sc in library science from Columbia, he taught at various universities before settling at SIS in 1959, where he taught for forty-seven years, eventually retiring as a Distinguished Adjunct Professor. Eyck wrote extensively; many works were published (one in particular relating the history of European national anthems), and manuscripts left unpublished included short stories and fifty years of a personal diary.

Before the service began, son Andy Eyck announced the recent creation of the F. Gunther Eyck Memorial Fund to endow the award of the same name, which will be given each year to an SIS faculty member "for their attention and devotion to students" – the very traits, among many others, for which Eyck was commended by his eulogists.
"We think [Eyck] helped us do our best," explained SIS dean Louis W. Goodman. "He made us appreciate our many blessings. He made his positive presence contagious."