In the Community
COTELCO Center Opens, Demonstrates Capabilities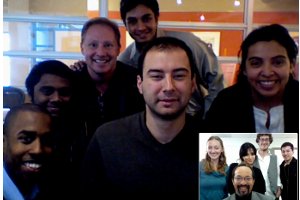 The people on the computer screen waved excitedly to the people standing in the office in the room. The people on the screen were in Syracuse, N.Y.; the people in the room at AU. COTELCO, the Center for Research on Collaboratories and Technology Enhanced Learning Communities, linked the two rooms – both COTELCO hubs – on webcams to demonstrate the center's capabilities and aims.
The Center was founded in 1999 at the University of Michigan School of Information - while the school was collaborating with AU on the Globalization Seminar - and Professor Derrick L. Cogburn opened a branch upon his arrival at AU. The center's mission, according to the website, is "to provide international service and contribute to new knowledge by using mixed methods social science research to explore the socio-technical infrastructure to support geographically distributed collaboration."
With a motto of "Going Global, Locally," the center tackles three main projects: embracing and promoting collaborative learning environments (hence the webcam open between AU and Syracuse), researching and applying innovations to support geographically-distributed collaboration, and focusing on interdisciplinary social science.
The "locally" part of the slogan is possibly the most important. "[This is] not just a special room," Cogburn notes, indicating the area filled with computers and webcams. "You can use these anywhere you have access to the web – cybercafé, an airport or bus lounge," he listed, emphasizing that COTELCO's work can – and is meant to – be done anywhere an internet connection is available.
The staff of COTELCO, comprised of faculty associates, doctoral research fellows, and graduate and undergraduate research assistants, look for ways to make technology more efficient for and helpful to groups using it when separated by distance. "We're working with real organizations," commented Cogburn. "Each project we work with is a case study." The group's projects include research focusing on global internet governance (How do users participate? Who is in charge of the emerging internet regime?), using qualitative and quantitative research for metanalysis, and asking the chiefs of NGOs how they use technology.
For instance, the group has worked with various virtual organizations to strengthen their effectiveness. The Burton Blatt Institute of Syracuse University, for instance, whose goal is to "advance civic economic and social participation of persons with disabilities in a global society," is working with COTELCO on, according to its website, "a range of projects focused on building and evaluating accessible cyberinfrastructure," along with COTELCO's main focus on collaboration through the internet. "Everything's developing so fast," marvels student Margarita Coppi, SIS/MA '11, a graduate member of the team, noting that technologies are constantly growing, and, consequently, collaborative and accessible opportunities are growing for internet users with disabilities.
On a wall in COTELCO's AU office is a chart detailing the group's projects, research, and global communication. Explained Cogburn, "There's a sweet spot in the middle where all of those come together."
Learn more about COTELCO on its website, http://cotelco.net.