In the Community
SIS Professors Adams, Brautigam Author Books
By Annie Lyon, CAS/MA '03
February 4, 2010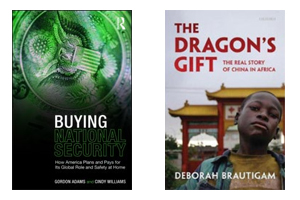 Two School of International Service professors are releasing books that have caused a stir in their relative sectors.
Associate Professor Deborah Brautigam, of the International Development program, has examined the Chinese investment in Africa with The Dragon's Gift: The Real Story of China in Africa (Oxford University Press, 2009). Professor Gordon Adams, of the U.S. Foreign Policy Program, has addressed the U.S.'s safety in Buying National Security: How America Plans and Pays for Its Global Role and Safety at Home, co-written with Cindy Williams. (Routledge Studies in Peace and Conflict Resolution, 2009.)
In The Dragon's Gift: The Real Story of China in Africa, Dr. Brautigam extensively describes the interaction between China and Africa, and the former's strategy of "global giving" to Africa, including aid amounts and other efforts.
"To date, much that has been written is critical of this investment (which is game-changing investment), but Dr. Brautigam is the first scholar to go in-depth in terms of what the investment is actually doing. Her work will be cited by policy folks and academics for years to come," notes Maria Green Cowles, the associate dean of academic affairs at SIS.
Alternatively, Dr. Adams' book examines issues closer to home concerning the planning and budgeting for American national security. "This is a unique book," comments Dr. Adams. "The reason that my colleague at MIT and I decided to write it is because there's absolutely no literature on the subject. [Buying National Security] looks at the way the government plans and resources national security, from diplomacy to intelligence to homeland security. Right now at this point in US history, the balance of the tools in the toolkit is out of whack. One of the issues the book discusses is, 'How do we restore the balance?' We've empowered the civilian instruments, and aren't asking the military to do so much," Dr. Adams explains.
International Economic Relations Professor Arturo Porzecanski comments, "Dr. Adams and his co-author have provided a very useful roadmap to the nuts-and-bolts, budgeting issues that underwrite – and sometimes shortchange – our government's national defense, homeland security and diplomatic efforts. The authors have taken a 'Follow the Money' approach that is a necessary complement to our understanding of the theory and practice of international relations."
Both books will be launched formally in February; Dr. Brautigam was hosted at The Center for Strategic and International Studies on February 2, and Politics & Prose will host an event on Sunday, March 28, at 1 p.m. Dr. Adams will discuss his book in a talk co-sponsored by SIS and The Stimson Center on February 11 at 2 p.m.