In the Community
International Development Program's Friday Forum Focuses on Haiti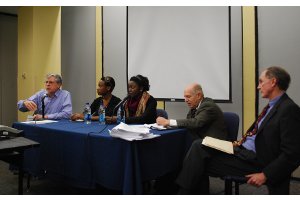 On January 22, 2010, members of the SIS community gathered to discuss the recent disaster in Haiti at the International Development Program's "Haiti: Looking Back, Looking Forward" event in Mary Graydon 203.
The forum, moderated by University Chaplain Joe Eldridge, included AU students Tania Smith, SIS/BA '13, a native of Haiti, and Dshwana Bernard, SPA/BA '11, the co-president of the Caribbean Circle. Panelists from outside AU were Mark Schneider, the senior vice president and special adviser on Latin America with the International Crisis Group (and an AU trustee) and Ollie Davidson, a senior disaster consultant with P.P. Partners.
In his opening remarks, Eldridge commented on the quick response of the American University community to the Haitian earthquake. "We've all been shaken … we've all been affected. We're all connected; that has been brought home to us profoundly."
Smith was the most personally affected member of the panel; she described her efforts to reach her parents in Port-au-Prince immediately after news of the earthquake reached the United States. After frantically calling relatives, she learned about her parents' safety through a note on Facebook, hearing that her mother, who had been in the family's home, and her father, out playing tennis, were both fine. "I could only think of the worst," Smith explained. The first night after the earthquake, she notes, her family slept outside.
Offering professional perspectives on the future of Haiti and the effect of the disaster on the country, Davidson explained the details of the field of emergency management. In instances like these, the United States stockpiles supplies, is granted immediate purchasing power from the Department of State, and has search and rescue teams and dog handlers at the ready. Davidson praised the speed of the U.S.'s response to the tragedy, noting that "we have the best specialists in the government working on it."
The response closer to home was, according to Bernard, a no-brainer. "[AU] needed to do something for it, immediately," she commented, but also mentioned the importance of sustained aid to the island nation. "We should go forward with a structured plan and not just respond emotionally," Bernard advised. "[We should] not just go on emotions and forget." Eldridge praised the group for its immediate and "catalyzing" response.
Schneider, an expert on Haiti who has been working with and in the country since opposing human rights abuses by the regime of "Papa Doc" Duvalier, and the beginning of the transitional government in 2004. In his recent article, "Haiti's Hidden Hope," published in The New York Review of Books, Schneider notes the quirk of fate regarding the country: "It is one of the terrible ironies of this latest calamity … that in the year preceding the earthquake, Haiti had made considerable progress [in creating a viable state]." A recovery plan after last year's hurricane focused on tourism and small-scale farming, which, Schneider believes, "could – if resurrected – provide the beginnings of a new Haiti."
He believes in a positive outlook, despite the current devastation. "I do think in Haiti there is the possibility of hope for the future."