First Person
First Person: Nicole Dionne,  SIS/BA '07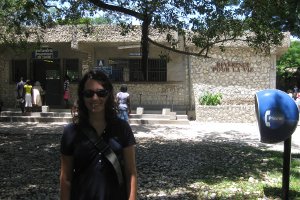 Nicole Dionne, SIS/BA '07, graduated summa cum laude from the Honors Program at AU with a major in International Relations. After the earthquake devastated Haiti in January, Dionne contacted SIS and offered to share a story of her experiences. Her remarkable tale is below.

I'm a second year MPH student in the Department of Global Health at Emory University. Since the beginning of the summer, I have been collecting my thesis data on diabetes at Hôpital Albert Schweiter Haiti. The hospital is located about 90 km north of Port-au-Prince and serves nearly 300,000 patients in the Artibonite Valley.
I was in the car stopped outside the hospital's office in Port-au-Prince when the earthquake hit. I didn't really understand what was happening until I saw the buildings around us start to fall. We ran down the street because a three-story school had collapsed. People rushed to the school to help free children and teachers from the rubble. Thousands flooded the streets and other open spaces in fear that aftershocks would ruin the few remaining buildings.  A heavy cloud of dust rose over the city as the sun began to set.
On the ride back to the hospital, we listened carefully to the radio broadcasts. Reports of collapsed buildings and fatalities rushed the airways. Our packed van sat in stunned silence for the entire 4 hour ride.  How could this be happening? Despite the radio broadcasts, it wasn't immediately apparent how catastrophic the earthquake had been. It wasn't until the following morning that the gravity of the situation became clearer. We were without functioning phone lines, so many people waited impatiently to hear news from missing friends and family. The mood in the street shifted almost constantly – hugs and shouts of "hallelujah" when loved ones were found safe and tears and wails when they were not. The intensity of witnessing such raw emotions has clenched down on my heart and has not yet loosened its grip – aching for all of the loss and sadness.
While there was no damage to the hospital or its immediate surroundings, it was flooded with patients. They arrived by any means possible – motorcycles, the back of pickup trucks, buses. Hundreds waited to be seen by doctors – many with makeshift splints and other bandages. Over a week later, patients were still arriving. Hospital staff has been working non-stop, despite the fact that they too have missing or injured friends and family. There were over 250 patients waiting for surgery – many with multiple broken bones and other trauma. Teams of American surgeons have been allowed to land in Haiti and have been working along with the Haitian staff to handle the overflow.
The ability of people to come together in a time of crisis is inspiring. Community members and local organizations have been bringing hot meals, water, and care packages to patients. Non-medical hospital staff has been working around the clock to help out any way they can, including comforting patients. Even the aid community is banding together by sharing medical supplies and other resources.  It would be nice if the media had portrayed Haitians as I have witnessed them – giving, compassionate, and community-minded, rather than focusing on the few acts of ill will in Port-au-Prince.
As a student of global public health, I have learned a lot by seeing the emergency relief process. We spend all of this time in the classroom learning about preparedness, and to see the plans in action is something completely different. With every disaster response, there is a lot to be learned. Each time we can improve. If it weren't for school starting, I would've liked to stay at the hospital and continue helping there.  This tragedy has motivated me to finish my degree and get out working in the field.

If people at AU are interested in helping the earthquake relief effort, I encourage them to get online and donate to one of the organizations working on the ground here. People can donate to Hôpital Albert Schweiter Haiti by visiting their website at http://www.hashaiti.org.