In the Community
Despite the Snow, Classes Carry On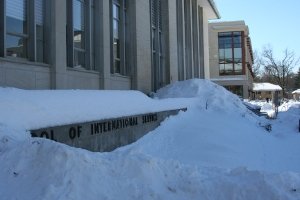 In preparation for an event (weather- or sickness-related) that might cripple University operations, AU faculty learned about Wimba, a collaborative software that enables virtual teaching, from the Center for Teaching, Research, and Learning. When February's storm hit, the plan was put into practice, and students and faculty alike sat in front of their computers at home – some with coffee at their sides or pets on their laps – and gathered remotely to hold class as best they could. Below are some of the reports from teachers and students, detailing how they managed to create some normalcy in the face of D.C.'s biggest snowstorm in 100 years.
Assistant Professor Daniel Esser
Call it snow-induced learning ... I just taught my first virtual class, thanks to Wimba and Erin Nixon at CTRL. Very reluctant to postpone this week's session, I looked into AU's new software application and managed to set up a virtual classroom. Erin then helped me overcome a couple of technical glitches. The result in terms of participation was quite overwhelming: 19 of the 23 students enrolled in my Program Evaluation course were "present" (i.e., online); many used the Instant Messenger function to weigh in and several also made audio contributions. I was able to record the entire lecture, which is now available as a podcast and video file for those who weren't able to join today. Four students e-mailed me after the session and expressed their satisfaction with this experience. While I cannot generalize from this small sample, I do have a sense that this experiment went well, and so I wanted to encourage you to look into this technology if you aren't using it already.
Student Kelly McCorkendale, SIS/MA '10
While conversation was hard to jump-start and despite that my Internet cut out a few times or froze, I did enjoy participating in virtual learning because it was such a novelty to me.
I sat on my couch in my pajamas eating a bowl of soup and followed along attentively for most of the session. We started around 5:40. Dr. Esser lectured until a little after 7. At that time, there was some discussion and we signed off around 7:30. I admit that by then, I was losing focus in part because of the finesse it took to watch and listen to the podcast while scrolling through the PowerPoint and checking the lower right hand side of the screen for questions or comments from my classmates, as well as typing up my own.
Wimba took a little multitasking that can become overwhelming on a small laptop's screen! However, Dr. Esser was very adept at making sure he addressed every comment and questions put forth as well as keeping the questions and comments flowing in an orderly fashion, which I think is very important in a virtual classroom where 20+ people are participating. Lacking the visual of your classmates, it is hard to anticipate when others might talk, causing you to stumble over one another. I think we managed to avoid this very well.
Assistant Professor Loubna Skalli-Hanna
I have used my scheduled class time on Monday and Tuesday to start a very productive e-discussion. The experience was very rich, and students have sent me "thank you" notes of appreciation and asked we keep the tradition going on even on sunny days!
What worked? First, I usually have study guides posted on BlackBoard to motivate students to reflect on the session's readings, and also have few students assigned to lead the class discussion. So, as soon as AU confirmed that classes were cancelled, I sent out an email the night before requesting all students to be ready to meet for class the following day (electricity permitting). I explained that we would use the class time the same way, covering the same material and meeting the same goals we normally would. This was very helpful in getting the students understand that we are keeping the same schedule and putting in the same effort. They were ready the following days.
I asked the "presenters" scheduled for the session to post their outline online and explain how they would have used it to engage the class in normal times. I gave students a time frame for responding to different sections of the presentation and monitored the conversation so we get to cover all the issues.
Our e-forum went well after the class time! I went over all the students' postings: highlighted the pertinent points, the new questions raised and announced that I would be posting within the coming few days a "lecture outline" synthesizing the key points I wanted them to get from the lecture. The additional days were very useful for students who could not join us during class time; they got to go over the posting and add their own thoughts. It is important that they did not feel left out (penalized) in case there was a power outage.
In the end, we all feel we have accomplished a great deal (perhaps more than) what we would normally have; this partly due to the liberating effect of the technology. I got to know some of my students better.
Professor Philip Brenner
I taught my first Wimba class at noon, which was not as good as meeting the students in person, but a great substitute. This was an Honors seminar that involves a lot of discussion. The class was supposed to meet yesterday, but I notified them that I would hold the class on Wimba today at noon, and sent instructions to all for setting up Wimba on their computers. I also posted a PowerPoint presentation on Blackboard for the class yesterday, and used it during the WIMBA class. A few did not have microphones, but participated well by writing comments.
These are intense sessions, and the conversation does not necessarily flow easily. The normal class meeting time is 150 minutes, but 100 minutes of intense discussion was quite sufficient for everyone. For a class this evening, which is oriented to lecture, I made a podcast along with a PowerPoint. I posted both to Blackboard, and notified the students that we would have a Wimba discussion about the topic starting at the time the class normally would meet: 5:30 p.m. The Wimba class will focus on the discussion questions I listed on Blackboard.
UPDATE: The evening class was a focused discussion in which 22 of the 25 students participated. I don't know how many were wearing pyjamas, but they were very appreciative to have some substance in their day. They liked having the lecture available as a podcast, which enables them to stop it to take notes, or to go back to catch something, or simply to get up and walk around while listening. The podcast lecture was 60 minutes, and the evening discussion lasted about 70 minutes, and engaged most of the 22 students.
Student Desmond Lim, SIS/BA '10
I got back just in time for the online class, after a round of snow football. If it was a typical class setting, I would have never made it in my snow-covered attire. With a cup of hot tea and a pair of earphones, I was immediately swept into the thick of the "classroom" action. Nestled on my comfy couch, the online class proved to a good make up for the canceled classes. Easy to follow and almost dumb-proof. (Although the sound quality is sometimes not so desirable and would be better if everyone had a mic.)
Associate Professor Derrick L. Cogburn
My snow story starts not in Washington, D.C. but in Philadelphia. On the Thursday before the first snow storm I left for Philly and the Annual APSA teaching and learning conference. This year, I was invited to chair the track and working group on integrating technology into the classroom. In addition, in working with the conference organizers, we wanted to try something different this year, by actually integrating technology into the conference as well. We had planned for each of the three keynote presentations to have remote participation possibilities. However, with the impending snowstorm, numerous participants and presenters began to cancel their plans to travel to Philly for the conference. So, we worked quickly to integrate remote participation options in several of the workshops associated with my track, as well as the actual presentations.
After the snowstorm finally hit Philly, this became even more important with some presenters who were in Philadelphia, but staying outside the conference hotel unable to make it in. Two of these presenters successfully delivered their paper and fielded questions remotely. Then, I was extremely lucky by getting to the train station early on Sunday morning, because my train and all subsequent trains were cancelled. However, I was able to take the earlier Acela (high speed train) and it got me back to Washington very quickly. There I prepared for Snowpocalypse II. I made the call early to cancel my FTF class on Wednesday night. I could tell that even if the university was open, it would be very difficult for my students to make it in on Wednesday evening. Since we have been using webconferencing from the first day of class (there are numerous advantages of using webconferencing in a traditional face-to-face class) it was easy for me to post an announcement on blackboard (and forcing it to go out in email) that we would not have a FTF class on Wednesday night for my SIS 695 Research Seminar in International Communication, but that class would be in our regular webconferencing space (I use Elluminate for webconferencing, and I would be happy to share with anyone the reasons for this choice). We had nearly perfect attendance from the class, and were able to hold class as normal, including providing a peer-critique from the class of several students' draft work in progress.
Similarly, I made the decision early to have my Thursday class, SIS 628/496 a mixed graduate/undergraduate seminar on Cross-Cultural Collaboration in Global Virtual Teams in our regular webconferencing room. In this class, we have students working with external clients around the world from Washington, D.C. and New York City, to Singapore. In addition, we have a deaf student taking the class from Singapore, so we provide live closed captioning for this student. In this class, not only were the student teams able to make presentations, but we took several "virtual field trips" were we were collectively reviewing websites of the client organizations, and watching videos together. It was very close to what Stornetta and Hollan (1992) call a "Beyond Being There" experience.
Teaching Assistant Mackenzie O'Donnell, CAS/BA '09
As a teaching assistant for one SIS course, I found my professor took the right approach to the storm's presence when he emailed all our students the moment AU closed to assure them of his expectations over the extended weekend. I was glad to hear professors put their technology to use and continued on with their syllabi as best they could, despite the conditions. "Take the extra days off as time to work a little more elbow grease into your projects, [and] really apply yourself to making this the best assignment you can submit to me this semester," he said as he requested students to please email him with any questions or concerns. More importantly, he made it clear that while school was closed, he would have office hours available via email and chat rooms so long as his internet was working.
Student Biljana Milenkovic, SOC/BA '11
Overall, I had a positive experience with Wimba. I think that there are things that could be improved (or maybe not - I am not the IT expert), and things that can stay the way they are (or maybe not - everyone has different taste). My final grade, on the scale from 1-10 is 7. Below are my reasons:
user-friendly (10) - It took no more than 3 minutes to install the application. Instructions were clear and straight-to-the- point. I use a MAC; it would be interesting to find out what PC users think. complexity (10) - I liked it because it is simple. It does not have too many widgets, additional screens, or pop-up menus that I often find distracting and not helpful, especially not for the classroom-simulated environment.
communication choices (10) - I liked that we could write and/or speak to each other. 
communication tools (4) - I felt uneasy to participate (to speak) on several occasions because I wasn't sure if person I wanted to reply to had finished her/his thought or sentence. If we had a widget that could indicate to others who had a follow-up (blinking hand or something) or comment, I think we would have had a livelier discussion. In fairness, I could still write them down, but often to speak is faster. 
connection (4) - I found this the biggest obstacle to the "virtual" classroom. Not everyone had a perfect and strong internet connection, which inevitably made our communication harder. 
noise levels (8) - On several occasions I got a high noise level. I also had to turn off the radio. 
In conclusion, it is a very useful tool and supplement for the traditional classroom. I encourage further usage and improvement. However, I do not support using Wimba in everyday situations. I think that virtual classrooms, for different reasons, cannot provide the same or equal learning experience to all participants.