In the Community
"Who Decides Who Decides?"
Internet governance, user participation discussed at first COTELCO brown bag.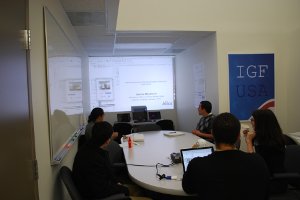 Who is in charge of the Internet? What is there to manage? Who makes the rules, what are they, and what happens when the rules are broken?
These questions and more are difficult to answer, but Desiree Miloshevic, an international affairs and policy advisor at Afilias, is trying to find workable solutions. On February 3, 2010, she joined COTELCO for a brown bag discussion entitled "The New Economic Context of Internet Governance."

The talk was the first of many, explained Dr. Derrick L. Cogburn, SIS professor and COTELCO director, and the brown bags will be "both physical and virtual." The software being used, Elluminate Live!, allows the posting of PowerPoints, teleconferencing, and virtual participation. Indeed, the in-house participants were joined remotely by a participant from San Francisco.
Miloshevic discussed the function of the Internet Governance Forum (IGF), which discusses the public policy issues related to the internet. "The IGF is, in theory, the kind of place where you can hear what others have to say," she explained.
The upshot of the various "alphabet salad," as Miloshevic termed the NGOs, development groups, and institutions concerned with the Internet, is the work that they all can do together. "We cannot put enough emphasis on the need … to be open, transparent, and collaborative." A potential Internet governance model, Miloshevic explains, would consist of "shared global ownership" of the Internet, and bottom-up self-regulation, rather than rulings from the top-down.
In addition to governance, there is the issue of the economic context regarding the Internet. Developing countries, for instance, which are attempting to create a nationwide domain name, must have diversified and strengthened funding, Miloshevic stressed. She asked, "Looking at developed versus developing countries, who will make new investments in the internet infrastructure?"
As the session wound down, Miloshevic noted that anyone can be engaged in answering these complicated questions. "The most valuable, visible input is to give feedback," she noted.
"This is an area that can transcend all of SIS's programs."

COTELCO was founded by Dr. Cogburn at the University of Michigan, grew at Syracuse University, and expanded into a joint center with American University in August 2009, when Dr. Cogburn joined the SIS faculty. COTELCO focuses on global governance and transnational networks, studies collaboratories and cyberinfrastructures, and promotes geographically distributed collaborative learning.