In the Community
International Development Professors Present Research at Forum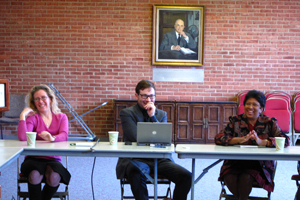 On Wednesday, February 24, 2010, SIS faculty gathered to hear International Development (ID) Program faculty present their latest research. Moderated by Associate Professor and U.S. Foreign Policy Program Director Shoon Murray, the three participating faculty members (Assistant Professor Daniel Esser, Professor Vidyamali Samarasinghe, and Professor David Hirschmann) gave brief overviews of their planned research projects. At the end of the presentations, Associate Professor Carolyn Gallaher of Comparative and Regional Studies led the group in asking questions for clarification and regarding plans for the expansion of these projects.
Dr. Esser spoke first, on the topic "Does Poverty Trump Inequality? A Tracer Study of Development Discourse." He defined global inequality as one of "the great issues," and noted that his study will focus on discourses, which can be treated as objects of inquiry. With the assistance of a graduate student, Dr. Esser will map both old and new appeals, using the software NVivo and QDA suite to process the data.
Focusing her project "Another North/South Divide? Theories in Practice in Gender and Development Initiatives" on the use of the word "gender," Dr. Samarasinghe asked, "How does gender affect women's developing policy initiatives? If 'gender' cannot be properly translated, shouldn't we go back to 'women'?" She will study what gender means in developing countries versus what the term means to the development agencies. In different societies, the professor noted, the term "gender" has different meanings, some more easily understood than others.
Dr. Hirschmann's presentation began his talk, "Calypso and the Value Added Tax (VAT): Cultural Confrontation in Dominica," with some calypso music, noting that the VAT creates resentment in certain countries. He will study the culture of protesting the VAT in Dominica, Mauritius, and South Africa, especially through music. These songs, he notes, are "a voice on behalf of the poor attaching the ruling class." Where other forms of protest have either died out or lost power, "calypso may yet have the last laugh," Dr. Hirschmann explains.
Dr. Gallaher began the question-and-answer session noting that "this is a breath of fresh air, listening to my colleagues' research." Dr. Hirschmann, the director of the ID program, hoped that this inaugural forum would be the first of many, in all SIS programs, and open to the public.