In the Community
Korean and American Students to Convene at AU for KASC Conference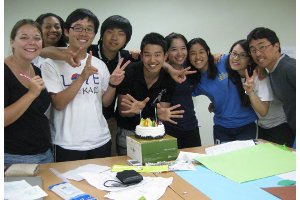 For ten days in mid-July at American University, twenty-five American students and twenty-five Korean students will be participating in roundtable discussions, living in the residence halls, and bonding doing community service and rehearsing for a talent show.
Then, for thirty more days, they will repeat the process at three other universities.
It's all part of the 3rd Korea-America Student Conference (KASC).
2010 marks the first year that AU will be hosting a section of the conference (participants and coordinators continue to the University of Pennsylvania, the University of Michigan, Ann Arbor, and Stanford University after the time at AU has ended).
"[SIS] Dean [Louis W.] Goodman introduced me to KASC the summer of my sophomore year," explains Christal Louison, SIS/KSB/BA '10. It's made such an impact on her that rather than just participating this year, Louison is serving as the AU site coordinator and one of the co-chairs of the organization.
"I plan the day-to-day activities alongside of Heidi [Ashton Yoon, the assistant director of the School of International Service's Office of Program Development.] We plan who's coming, when they're coming, transportation," and the overall conceptual format of the AU experience, she says.
Not only is Louison organizing all the logistics, she's even helming one of the five roundtables in which the students will participate, "The Green Life Movement: Social Movement of Going Green." The others include "The ABCs of Education: Exploration of Education," "War and Peace: An Analysis of Differing Perceptions," "U.S. and Korea in the News: Media for Cultural Understanding," and "Korea in 50 States: The Evolution of National Identity." By the end of the month-long program, each participant will have created a capstone project to be presented to the group.
Bolstering each roundtable's learning will be trips to Washington landmarks and places of policy-making, visits from speakers and experts in the field, and delegate presentations.
Being chosen for the program isn't easy: interested students must submit recommendations, essays, and participate in a phone interview to demonstrate facility with the language (KASC is held in the United States and Korea in alternate years; despite the location, the program is always conducted in English). Louison and her cohorts on the executive committee choose the applicants from a large pool. "It's usually a lot easier to get more applicants coming to fly over," she laughs.
But Louison grows serious at the thought of her goals for the program. "I want [participants] to walk out with a basic understanding of each other's culture [and] what it might be like to be in the other person's shoes… I want there to be an exchange of ideas."