Education
SIS Class Explores Food Issues, Ecology; Presents Work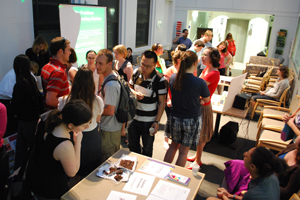 What is considered "local" food? How has green tea been commercialized? What is a food desert? And what's really in a Twinkie?
SIS Assistant Professor Simon Nicholson's undergraduate class, The Political Ecology of Food and Agriculture, answered these questions and more as it exhibited its midterm projects in Battelle Atrium on Tuesday, April 6th, 2010.
The students found, overall, that while making one's own dinner is more time-consuming than sticking a Hungry Man dinner in the oven, as Kate Drake, CAS/BA '10 discovered, it tastes better, and she prefers knowing just what ingredients are in her food. Unfortunately, she explains, "the food system makes it cheaper and more convenient to buy processed food," which explains the popularity of frozen dinners.
Kira Griswold, SIS/BA '10, agrees, and notes that people who are concerned about where their food comes from have difficulty in tracking down its origins. While making a film about precisely that subject, she realized that "transparency of the system is not in the consumer's favor." Griswold eventually discovered that the idea of "local" food is open to interpretation; in some cases, food is considered local if it was grown within 100 miles. In others, noted classmate Maureen Casey, SIS/CAS/BA '10, "local" can mean grown up to 300 miles away.
Why focus a class around this subject in the first place? "Food is just super-interesting," laughs Professor Nicholson. "There seems to be a demand for food-themed courses. It's such an easy way to connect with politics: how individual issues about food get shaped. There's a really vibrant food movement now."
Ensuring that the projects were presented creatively was also important. The exhibits varied from food samples to short movies, and even children's books written and illustrated by the students. "I think it's still crucial that we teach people to be effective writers, but that they can find other ways to express themselves," explains Professor Nicholson. "What they came up with was exciting."