Achievements
IER Student Wins Prestigious AU Award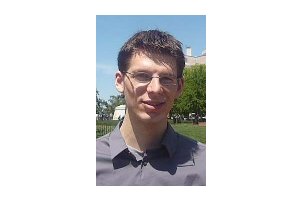 Robin Koepke, SIS/MA '10, received American University's Award for Outstanding Scholarship at the Graduate Level.
Colleen Callahan of the Department of Economics enthuses, "Robin consistently displayed intellectual curiosity, exceptional diligence and keen insight into the core concepts of Macroeconomics. In addition, he submitted research of the highest quality."
The award is "definitely well-deserved," said Professor Robin Lumsdaine of the International Finance program at the Kogod School of Business. "Robin's collaborative, interdisciplinary approach made full use of what AU offers, combining an appreciation for challenging material, a willingness to help and learn from others, and an interest in the world around him."
Robin has also excelled academically in one of the most rigorous internships in international economics that there is in Washington DC, at the Institute of International Finance (IIF).  Robin is the first AU intern the IIF accepted, and they have made him a permanent job offer. While at the IIF, Robin has gone beyond the usual research assistantship tasks to author sophisticated papers like his "The Tides of Concentration and Diversification: Trade Shocks and Competitiveness in Brazil" and "Monetary Exit Strategies after the Global Financial Crisis." Robin's recent appointment to become research assistant to the Chief Economist of the IIF further speaks for his exceptional expertise in his field. He will join the IIF's staff on a full-time basis in June 2010, supporting the department for Global Macroeconomic Analysis.
Distinguished Economist-in-Residence Arturo Porzecanski pointed out, "Robin has excelled in the most difficult graduate-level courses, not just within SIS, but also at the Kogod School of Business and the Department of Economics."  Robin's scholarship is evident in his sophisticated paper, "Forecasting GDP in Emerging Markets Using Asset Prices," that he wrote for Prof. Eric Zivot's class Financial Econometrics and Volatility Modeling.
As SIS Dean Louis W. Goodman noted, "he has now set a new standard of excellence for students in international economic relations, economics and business here at American University through his intellectual engagement and scholarship."