In the Community
International Conference Caters to Attendees, Remote Participants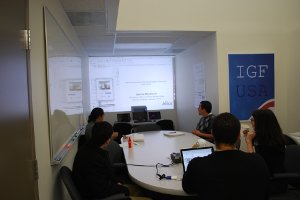 In this era of telecommunication, shelling out for airfare, reserving hotel rooms, and collecting per diem money to go to a conference may be coming to an end. Memorial Day weekend's GigaNet (Global Internet Governance Academic Network) Conference in Montreal, Canada, is the perfect example.
Although about 100 academics, including Dr. Derrick L. Cogburn, an SIS associate professor and the director of the Center for Research on Collaboratories and Technology Enhanced Learning Communities (COTELCO), will be at McGill University, where the workshop is being held, many others will be participating remotely. Much of the conference, including the roundtable discussion in which Dr. Cogburn is speaking, "What is Internet Governance Research and What Do Different Academic Disciplines Contribute to it?," will be broadcast via ElluminateLive! to allow people around the area, country, and world to listen in. "The idea is it is not just a broadcast, but we include active participation by remote participants, including remote panelists and participants," says Dr. Cogburn, who, in addition to speaking, serves on GigaNet's scientific committee (http://internetgovernance.org).

Changes to internet governance are constant. "There's a bit of a ruckus going on right now," Dr. Cogburn comments, "because of the CEO of  ICANN (The Internet Corporation for Assigned Names and Numbers), Rod Beckstrom, has just been quoted in the last week or so arguing against any further internationalization of ICANN, such as moving it under U.N. auspices, suggesting it would make ICANN less nimble. The workshop is coming at a really interesting time, because we'll be able to weigh in on this recent controversy."
GigaNet hosts two main events every year: a symposium, to be held this year in September in Vilnius, Lithuania, for "fully-baked papers that are peer-reviewed," Dr. Cogburn explains. Alternatively, this workshop, the third since GigaNet's creation, aims to present "ideas at earlier stages giving people a chance to weigh in earlier in a research project to discuss and debate the issues," he notes.
"Our first goal for this workshop is to have an international group of scholars come together and hear some of the work presented. But another goal of the workshop is outreach; we're starting to feel that it's our responsibility to educate and explain to both policymakers, NGOs, the private sector, and even other academics about the importance of internet governance as a topic."