In the Community
President Obama Delivers Key Speech On Immigration Reform at SIS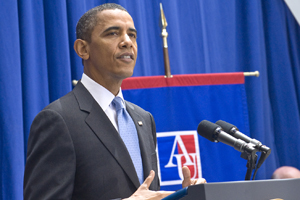 Continuing a tradition started by President Dwight D. Eisenhower, as he visited American University's School of International Service in 1957 for the SIS groundbreaking ceremony, President Barack Obama delivered a major policy address on immigration reform at the new SIS building on July 1, 2010.
During his thirty-minute speech, President Obama lamented the problems an inadequate course of action has created in the past.
"So the politics of who is and who is not allowed to enter this country, and on what terms, has always been contentious. And that remains true today. And it's made worse by a failure of those of us in Washington to fix a broken immigration system … Indeed, after years of patchwork fixes and ill-conceived revisions, the legal immigration system is as broken as the borders."
Illegal immigrants, he continued, slip beneath the radar, and are vulnerable to exploitation; they must, he explained, "get right with the law before they can get in line and earn their citizenship -- not just because it is fair, not just because it will make clear to those who might wish to come to America they must do so inside the bounds of the law, but because this is how we demonstrate that being -- what being an American means."
President Obama continued, "Being a citizen of this country comes not only with rights, but also with certain fundamental responsibilities. We can create a pathway for legal status that is fair, reflective of our values, and works. … Our nation, like all nations, has the right and obligation to control its borders and set laws for residency and citizenship. And no matter how decent they are, no matter their reasons, the 11 million who broke these laws should be held accountable."
President Obama concluded his remarks calling for unity between Democrats and Republicans in Congress to make a change in a long-fractured system.
"Without bipartisan support, as we had just a few years ago, we cannot solve this problem … The only way to reduce the risk that this effort will again falter because of politics is if members of both parties are willing to take responsibility for solving this problem once and for all."
The speech was streamed live through The White House, and SIS alumnus and "Meet the Press" host David Gregory, SIS/BA '92, kept a running commentary on his Twitter feed.
"A new start on our immigration policy is critical at this time in our nation's history," commented SIS Dean Louis W. Goodman. "Having passed comprehensive health care reform, it is now time to tackle other social issues for the welfare of our country and pursuit of social justice."
Members of the SIS community participated in the ceremony preceding the President's arrival. Vishal Vaidya '09 performed the national anthem, and AU Student Government President Nathan Bronstein, SIS/SPA '12, led the audience in the Pledge of Allegiance.
President Obama's speech took place in the recently opened, 70,000 square foot School of International Service building. The structure, which features solar water heating systems, low-flow faucets and fixtures, and photovoltaic (solar electric) systems, represents "the standards of excellence, transparency, and community that have characterized SIS since its founding," according to Dean Goodman.
Presidents Wilson, Franklin D. Roosevelt, Kennedy, Carter, Clinton, and Bush Senior have all also visited American University, speaking on topics such as peace and justice, poverty and hunger, and economy and trade. President Obama returned to American University after the Kennedy family, including the late Senator Ted Kennedy, endorsed Obama's candidacy on the campus in January 2008.