On Campus
SIS Gateway Program a Chance for Freshmen to "Get Their Feet Wet"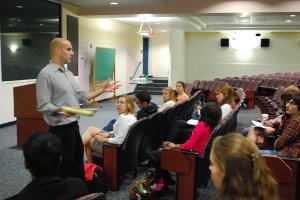 Most freshmen spend their first semester getting acclimated to the unfamiliar sense of independence. But new SIS students have help in navigating the initial challenges of college: the Gateway program, which combines teaching practical negotiation skills and the opportunity for students to be mentored by students and professors.
While learning to negotiate – with tips from the experiences of practicing professors Anthony Quainton and Paul Williams – the students also have the chance to hear from guest speakers, panels, and participate in workshops. All SIS freshmen are required to participate in this one-credit, one-semester course, which divides them into about 42 groups, each one headed by an upperclass student (all of whom are previous Gateway participants themselves) and faculty mentor.
In many cases, the student leaders gleaned so much from their previous experiences that they wanted to participate from the other side. "As a freshman, the Gateway program made me feel like I was part of the SIS community," recalls Meredith Lukow, SIS/BA '12. "In particular, my upperclassman mentor was a great resource during my first semester at AU.  I decided to play a role in Gateway as an upperclassman because I wanted to welcome this year's freshmen in the same way I was welcomed to SIS."
Along with their student counterparts, mentoring faculty are much more involved in the Gateway program (and with their students) than merely acting as facilitators. Associate Dean for Academic Affairs Maria Green Cowles notes that professors are encouraged to spend non-academic-related time with their students, either visiting museums, restaurants, or hosting dinner and board game nights at their homes, as Dean Cowles plans for her group.
The simulation itself, coordinated by Professors David Bosco and Simon Nicholson, involves training sessions before the class periods of the actual negotiation in October. The students represent members of countries and media groups in the year 2020, when climate change has caused coastal flooding, and, ultimately, large refugee populations. Another group of students, acting as the U.N. Security Council, must deal with the consequences of the refugee crisis, the flooding, and reducing global warming.
But the Gateway obligations don't end with the academic side. Students are each issued a "Gateway Passport," which they must take to events at AU or in the city (a minimum of one of the three required events must be off campus) and have signed – by the leader of the hearing, a speaker at a cultural event, a curator at the museum talk, or any other representative of the program they attend.
Dean Cowles is determined that the program be both educational and enjoyable. "We want to be hands-on with the students," she explains, "and all that's very fun."