In the Community
SIS Interns Study the Streets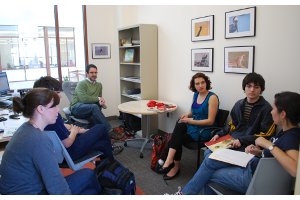 Five SIS students, under the guidance of Assistant Professor Simon Nicholson, will be interning together in Washington D.C., as many graduates and undergraduates do, but unlike most interns, they will not be in an office – they'll be studying the city itself.
In conjunction with the group Living City Block (LCB), founded and headed by former The West Wing producer Llewellyn Wells, the students will begin evaluating the redevelopment process of 14th and U Streets. Launched in Denver in 2010, LCB's mission is to "create a replicable, exportable, scalable and economically viable framework for the resource efficient regeneration of existing cities, one block at a time," according to its website.
Dr. Nicholson agrees. "If we're going to start redeveloping urban areas to be sustainable, we need to do it at the level of entire blocks and streetscapes; then you see how energy's used, space is used, how transportation flows, and for that to happen, you need a broad community buy-in – it's a model you can take anywhere," he observes.

From January to May 2011, the students will be "baselining the aspects of the block," Dr. Nicholson explains. "For the process to start, we need to know the lay of the land: who people are, the businesses, the transportation," and other systems within the neighborhood. (In future semesters, he hopes, students will assist planners and engineers to develop the block for 5 – 10 years.)

"I'd like to pursue sustainable development in the future," says Matthew Espie, SIS/BA '13, "and LCB is relevant to that. Additionally, it is already making me aware of the challenges and complexities of these issues, especially when in the context of a city with a long history to incorporate into the plans."

Throughout the semester, the students will be working both independently and in groups establishing contacts, researching, and analyzing the systems integration. According to the intern information sheet, the SIS participants are key members of the long-term process. "Without base lining and analyzing those existing conditions and elements, it is unlikely that LCB would be able to achieve its longer term goals."
Marvels Erin Greenawald, SIS/BA '13, "We are really being thrown into this. The learning curve is incredible, a fact which is both intimidating and thrilling … Since this is a learning process for all of us (including the president of the organization), no one is really sure how much we will get done. But with any luck, we will have collected a really strong pool of data telling us everything there is to know about the current functioning of our two blocks in U Street."
   
This article is part one in a series following the work of the SIS Living City Block Interns.