Student Life
SIS Undergrads Present Research, Prepare for Conference
By Annie Lyon, CAS/MA '03
March 23, 2011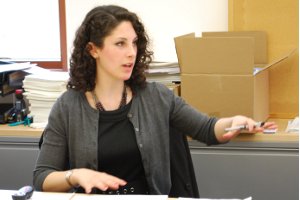 Featuring topics on piracy, arms control, cyber warfare, the European Sovereign Debt Crisis, and many more, 33 School of International Service (SIS) undergraduates presented at the 14th annual Undergraduate Research Symposium on March 22.  Panel sessions focused on international themes ("Global Ethics and Development" and "Regional Security," for example), with several students on each presenting their research on their chosen subject. 
Sophomore Zoe Bollinger, a presenter and one of the co-chairs of the program, conducted research on her project, "Digital Manifestations of Polychronic and Monochronic Cultural Time Perceptions," for almost a year. 
"[I started my research] second semester of last year, and continued it in the fall." Like her work, some of the presentations, she explains, "are long term projects."
Two winners were selected, one from each session: David Rubin,SIS/BA '13, for his presentation of "The Culture of Capitalism: Examining the Effects of the Free Market on Traditional Chinese Values," and junior Adrienne Elkin, who presented on "The Sway of Public Opinion: Deciphering the Priorities of U.S. Citizens With Regard to Human Trafficking." 
Both of these students will be among the seventeen SIS students attending, and presenting at, the National Conference on Undergraduate Research (NCUR) in Ithaca, NY from March 31 – April 2. 
Assistant Professor Elizabeth Cohn serves as the faculty advisor for both the symposium and the participants in NCUR. Making the opening remarks, Dr. Cohn noted, "[The students used] a variety of methodologies: case study, discourse analysis, quantitative analysis, interviews… this gives a sense of the pluralist approach to how we research at SIS."
All of the students from SIS who submitted abstracts to the NCUR conference were accepted. Due to the efforts of SIS and the Provost's Office, the record-breaking number of SIS students attending NCUR were provided with supplementary funding to ease the financial burden of travel.
According to Charles Spencer's article in the March 22 issue of American Today, nineteen undergraduates total from SIS, the School of Communication, and School of Public Affairs will be presenting at NCUR. The conference's website describes the mission of the program, which is "dedicated to promoting undergraduate research, scholarship, and creative activity in all fields of study by sponsoring an annual conference for students."