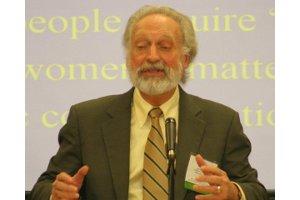 Professor Gary Weaver
(International Communication) delivered the kick-off keynote address for a conference on international public relations at The Johns Hopkins University. The title of the conference was "Managing the World," and the audience included international public affairs people from various international corporations.
Professor Weaver also recently spoke at Butler University on "Growing Up Cross-Culturally: Broadening Horizons for Academic Research," and at Rosemont College on the topic of Iranian third-culture children.

Professor Robin Broad
(International Development), along with the UN Rapporteur and Frances Moore Lappe, will be speaking at a colloquium on "food, hunger, and alternatives" to be held at The Hague (sponsored by the Institute for Social Studies) on December 12.
Institute on Disability and Public Policy (IDPP) and Center for Research on Collaboratories and Technology Enhanced Learning Communities (COTELCO)
representatives served as official rapporteurs to the Secretariat at the UN Convention on the Rights of Persons with Disabilities. COTELCO director Derrick Cogburn called the conference "the most important international gathering of people and organizations involved in the issue."

Jon McCreary, SIS/BA '15, Antonio Rivera, SIS/BA '15, and Elliot Bell-Krasner, SPA/MPP '12

received awards at the University of Pennsylvania Model United Nations Conference. 11 delegates from SIS attended; McCreary and Rivera received honorable mentions for their performances, and Bell-Krasner was named an outstanding delegate.