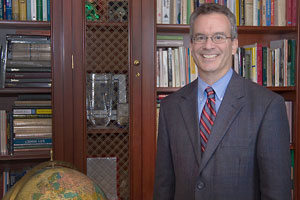 SIS dean James Goldgeier (Photo: Jeff Watts)
Dean James Goldgeier
has been awarded a grant from the Carnegie Corporation of New York for his project on "Bridging the Gap, Fostering Greater Policy Relevance in Political Science and International Studies."

Dean Goldgeier and his project partners at Duke University and the University of California, Berkeley will host programs here at American University and overseas that seek to train, develop, and mentor an expanded cohort of scholars whose work is oriented towards policy-relevant scholarship and/or theoretically informed policy work as they launch and build their careers in academic and policy institutions. Now in its seventh year, the project embraces multiple academic disciplines, including political science, international studies, law, public and international policy, and other related disciplines. These "bridging by doing" programs include the New Era Foreign Policy Conference for advanced graduate students, the International Policy Summer Institute (IPSI) for faculty in international affairs fields who want to pursue and disseminate policy-relevant research, and the Global Affairs Challenge, which will sponsor annual policy-relevant research projects.
Professor Charles Call
(International Peace and Conflict Resolution) has been appointed by United Nations Secretary-General Ban Ki-moon to serve as a member of the Advisory Board of the UN Peacebuilding Fund, a pool of over $400 million available for both urgent and long-term post-conflict and recovery activities.
Professor Shadi Mokhtari
(International Peace and Conflict Resolution) had her book, After Abu Ghraib: Exploring Human Rights in America and the Middle East (Cambridge University Press, 2011), discussed at length by Amnesty International's Senior Terrorism Counsel Julia Hall in an International Bar Association and Open Society Foundation High-Level Panel releasing an IBA Report on terrorism and international law in March 2011.
Professor Robert Tomasko
(Social Enterprise) presented "Developing Social Entrepreneurs: Lessons from a New International Relations School-Based Master's Program" at the eighth annual NYU - Stern Conference on Social Entrepreneurship in New York City.
Professor Anthony Wanis-St. John
(International Peace and Conflict Resolution) had his book, Back Channel Negotiation: Secrecy in the Middle East Peace Process (Syracuse University Press, 2011), named as an Outstanding Academic Title by the Association of College and Research Libraries.