Achievements
News and Notes 5/30/12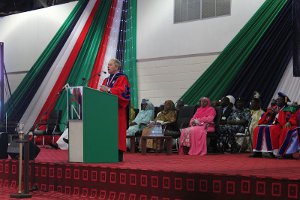 Professor Robert Pastor
(U.S. Foreign Policy) delivered the commencement address (PDF) at the American University of Nigeria (AUN) in Yola, Nigeria, at which he also received an honorary degree and AUN's Founders Award. Professor Pastor helped establish AUN while serving as vice president of international affairs at AU.

Professor Craig Hayden
(International Communication served as a panelist for the Brookings Institution's event, "Public Diplomacy in Northeast Asia: A Comparative Perspective."
Kara Guglielmo, SIS/MA '13
has been selected by the National Council for International Visitors as one of its summer 2012 interns.
Jessica Hoover, SIS/MA '13, and Z'leste Wanner, SIS/MA '13
were placed by the Council of Women World Leaders in positions at the Ministry of the Environment in Ecuador and the World Economic Forum, respectively.
Ryan Sarafolean, SIS/MA '14
(International Development) received one of two national AmeriCorps 2012 Eli J. Segal Entrepreneurship Awards. He is the founder and executive director of the KGSA Foundation.