Alumni
Back to School, Moving Forward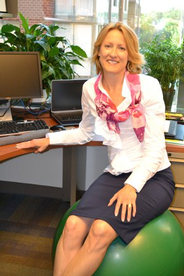 Laura Lartigue, SIS/MIS '11, is no stranger to education. She holds a bachelor of fine arts, a master's degree in English, a certification in journalism, and has taken supplemental training courses throughout her career. But despite these achievements, there was still something missing for the communications manager of the Leadership, Management, and Governance project at the Management Sciences for Health.
She wanted to go back to school, and doing coursework with other non-traditional students who were also well into their careers seemed attractive. After researching other graduate programs in the area, Lartigue determined that the Master's of International Service (MIS) program at SIS fit her best.
"What I wanted from my graduate school experience—and I felt like I got from being in the MIS program—was a bigger picture view of international relations and development, and more progressive and alternative approaches to problem-solving in the international arena," notes Lartigue. "My colleagues were also great, a real mix of professionals from the diplomatic, military, development, and private sectors."
While many MIS students balance full-time positions and their schoolwork, Lartigue chose to go to put her career on hold and focus on her classes, finishing the program in a year and a half. "I knew that being a full-time student would also allow me to have a more flexible schedule," enabling Lartigue to spend more time with her two teenagers at home.
"Memorable professors and thought-provoking classes" highlighted Lartigue's experience during the MIS (her chosen courses included International Relations, Political Economy of Oil and Energy, French Culture through Film, and Corporate Social Responsibility), and toward the end of her time at SIS, she was selected as a Presidential Management Fellow. However, Lartigue declined the honor in favor of her current position, in order to be "in more direct contact with our host country clients," which will afford her the chance to travel to Afghanistan and Burkina Faso later in 2012.
"Although I am well into my career, I feel as though the MIS program gave it a boost—I was able to do research on subjects related to my work that have always been of great interest to me, and that I needed to know more about," says Lartigue. "It also provided me with an update on new issues and developments in international relations, development, and human rights that have already informed and enriched my work."