Achievements
SIS Faculty Publications: June 2012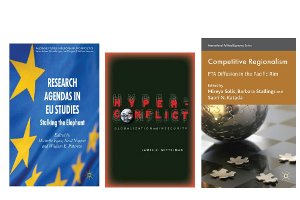 Adams, Gordon. "Our Nukes Cost More Than You Think," in AOLDefense. June 18, 2012.
Broad, Robin. "Today's Trivia Quiz: How Global Mining Corporations Are Able to Undermine Democracy," in TripleCrisis. June 28, 2012.

Broad, Robin, and John Cavanagh. "Mining Gold, Undermining Democracy," in OtherWords. June 11, 2012.

----. "Trading in Democracy: Why Rights Are Still for Real People," in YES! June 28, 2012.

DeJesus, Maria, and C. Xiao. "Predicting Internet Use as a Source of Health Information: A 'Language Divide' Among the Hispanic Population in the United States," in Policy and Internet 4 (2). 2012.
Leverett, Hillary Mann, and Flint Leverett. "Playing for Time on Iran," in TomDispatch.com. June 19, 2012.

Shapiro, Judith. 2012. China's Environmental Challenges. Cambridge: Polity Books.
Vogt, Erich. "Die Weltbank nach Zoellick," in Gegenblende. June 20, 2012. [PDF]