In the Community
French Ambassador, Dean, Host Luncheon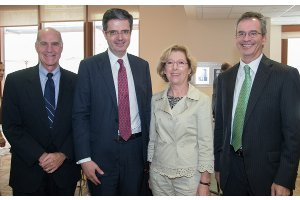 On Friday, July 27, 2012, Dean James Goldgeier of the School of International Service (SIS) and His Excellency François Delattre, the Ambassador of France to the United States, jointly hosted a luncheon in SIS's Abramson Family Founders Room in honor of the French Minister of Higher Education and Research, Geneviève Fioraso.
"We were honored when the French Embassy asked us if we would be able to host a luncheon for Minister Fioraso on her visit to the United States," explained Dean Goldgeier. "President Neil Kerwin, Dean Peter Starr and I were invited to a breakfast at the Ambassador's residence in the morning, and I was delighted that we could continue our conversation over lunch with Provost Scott Bass, some of our faculty and staff, and a number of French scholars working in the area."
American University and the Embassy of France have enjoyed a long working relationship; the School of International Service hosted Ambassador Delattre on January 27, when he spoke at the roundtable event "French and American Partnerships Among NGOs."
"We have developed a deep partnership with the French embassy," said Dean Goldgeier, "and we hope to provide many opportunities for our faculty, staff and students to engage further with the embassy and our educational partners in France."
Among the Dean's speaking points during the event were the strong partnership of SIS and other schools of international relations, especially in terms of internship exchanges and developing joint degrees. SIS offers study abroad programs at Sciences Po (Paris) and Université Montpellier 1 (Montpellier).