Achievements
News and Notes 8/7/12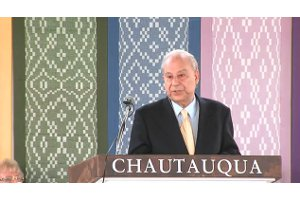 Ibn Khaldun Chair of Islamic Studies Akbar Ahmed
(Comparative and Regional Studies) spoke to a full house at the Chautauqua Institution's Interfaith Lecture Series on July 23. His event was entitled "The People of Pakistan," and Professor Ahmed discussed the tribal areas of his home country.

Professor Maria de Jesus
(International Communication) has been awarded a grant fromthe District of Columbia Developmental Center for AIDS Research (DC D-CFAR) to undertake her proposed study, "HIV-Related Perceptions, Barriers and Facilitators to HIV Testing, and HIV-Related Communication Norms Among East African and African American Women in Washington, D.C." Among other goals, Professor de Jesus plans to analyze similarities and differences between African American and East African immigrant women in (a) HIV-related knowledge, attitudes, and perceptions; (b) facilitators and barriers to HIV testing; and (c) HIV-related communication norms.

Professor Carl LeVan
(Comparative and Regional Studies) organized a scholar-activist dialogue at the Institute for Policy Studies on gentrification and race in D.C. In June, Professor LeVan presented "The Future of Representation in Nigeria" at a National Intelligence Council analytic exchange with the State Department, and "The Political Basis for Negotiations with Boko Haram" at a conference organized by the Jamestown Foundation at the Carnegie Endowment for International Peace. Finally, he spoke at the State Department's Foreign Service Institute on "The Political Economy of African Responses to the U.S. Africa Command" in July.

Professor Molly O'Neal
(Comparative and Regional Studies) received an IREX Embassy Policy Specialists research fellowship to travel to Moscow in June-July 2013 to study the implications of Russian WTO accession for key sectors of the Russian economy.
Professor Manuel Orozco
(International Development)  participated in two conferences in June; the first, hosted by the International Organization for Migration in Managua, focused on remittance transfers in the Caribbean and the profile of Nicaraguan migrants. At the second,led by the Pan-American Development Foundation and concentrating on education, took place in El Salvador, and Professor Orozco presented the findings of his 2012 study, "Moving towards a partnership development model between Diasporas and the private sector: experience in education," which analyzed the role of the diaspora and the private sector in educational development projects.

The Intercultural Management Institute (IMI)
received a grant from the Cross Cultures Project Association (CCPA) in Denmark to develop an assessment tool that can measure the impact of CCPA's programming, and to subsequently utilize this tool in an assessment of the CCPA-funded Open Fun Football Schools in Crimea, Ukraine. Through a series of surveys, the Intercultural Management Institute (IMI) will evaluate the results of the program as they relate to intercultural relations and conflict avoidance. This is IMI's second grant to assess CCPA programming around the world.
Sebastian Bitar, SIS/PhD, Ryan Briggs, SIS/PhD, Sheherazade Jafari, SIS/PhD, and Tom Long, SIS/PhD
were awarded funding from AU for their outstanding doctoral scholarship. Their dissertations are, respectively, "Subordinate Sovereignty: US-Latin American Relations and Domestic Politics," "Aiding and Abetting: The Influence of Foreign Assistance on African Election Outcomes," "Bridging the Secular-Religious Divide within Transnational Women's Movements?: Western-Muslim Partnerships for Women's Rights," and "Convincing the Colossus: Latin American Leaders Face the United States."
Kelly Ryan, SIS/MA '13
(International Peace and Conflict Resolution) published an article, "Definition, Necessity, and Nansen: Efficacy of Dialogue in Peacebuilding," (with Amanda Feller) in the summer 2012 issue of Conflict Resolution Quarterly. Ryan wrote the article, which focuses on dialogue and integrated bi-lingual education in the post-conflict country, as he was concluding his Fulbright work in Macedonia.

Monica Serrano, SIS/MA '14
(Global Environmental Politics) has been awarded a scholarship from COLFUTURO, an organization in her native Colombia, which aims to facilitate the access of Colombian professionals to further education abroad. It provides Colombian students with more and better study opportunities, and enables them to contribute with their experiences of studying abroad to the economic and social development of Colombia. Serrano is also an American University's Dean's Award Fellow.