Alumni
Alumnus Welcomed In Sudan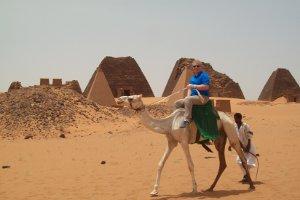 Ronald Hawkins, public affairs officer for the U.S. Department of State, thought he was going to a Sudanese elementary school to talk about the late astronaut Neil Armstrong. But the visit turned out to be much more than a discussion of recent American history.
"I spoke about what this man meant to Americans and how he exemplified pushing boundaries and accepting no limits," Hawkins said. "I was touched to see how many Sudanese students were so welcoming, and how many wanted to talk about Mr. Armstrong. They read a passage from the Koran and we had a moment of silence. In many ways, this became a simple memorial service, and I wish the Armstrong family could know how he had touched so many lives so far away from the United States."
Alumnus and world traveler, Hawkins, SIS/BA/MA '95, '97, currently serves as the public affairs officer at the U.S. Embassy in Khartoum, Sudan. He served in Iceland, Algeria and Bosnia before returning to Washington, D.C., as the public diplomacy desk officer for Austria, Germany, Liechtenstein, Slovenia and Switzerland.
"After two years in Washington, I was ready for another adventure overseas," Hawkins said. "Sudan seemed like an excellent opportunity."
Despite his penchant for working in foreign countries, Hawkins didn't start his career at the State Department abroad. After his graduation from SIS in 1997, Hawkins worked for four years as a consular officer and for one year in the operations center, what he calls "the heart and nerve" of the department. But the events of 9/11made him want to expand his horizons. "I wanted to do more and could do more overseas," he said.
In an email update sent to friends and family last summer after his arrival in Khartoum, Hawkins recounted his travels and the warm welcome he received from his new community.
"I met with my Sudanese colleagues in the Public Affairs Section, who are energetic, eager and full of ideas. We are going to be a great team, I know," wrote Hawkins. "The American colleagues also seem very nice and have been very welcoming. Everyone is being very helpful with information and happy to answer all my questions."
Despite the warm welcome, representing the United States abroad is a complicated matter, as many SIS graduates understand. Foreign Service officers must face challenges as they arise even in the best of times, and one of those challenges arose last week, as worldwide turmoil and violence erupted in the wake of a controversial anti-Muslim video posted on YouTube.
"After the protests of Sept. 14, the U.S. Embassy in Khartoum went to ordered departure for non-emergency personnel. This means many of us, including myself, left Sudan for another location. We are currently waiting to return to Khartoum to continue our work there," said Hawkins.