In the Community
An Alumnus' Labor of Love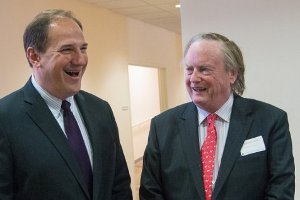 On April 26, SIS hosted a daylong symposium, "One Hundred Years of U.S Labor and Employment Relations: A Look Back, A Look Forward, and A View From A Comparative Perspective," celebrating the hundredth anniversary of the founding of the U.S. Department of Labor. The event was largely supported by Dean's Council member Stephen Embry, SIS/BA '71, a lawyer specializing in workers' compensation cases for over thirty years.

"We may have forgotten as a society that there was in fact a small group of people who organized and said, 'We can change things,'" Embry said. "[First female Cabinet member] Frances Perkins and that group deserve to be memorialized, and the department that they created deserves to be recognized, and we need to take this opportunity to say, 'What can we do for the next 100 years?' because they had the vision to do so 100 years ago."

The issue of commitment is a personal one for Embry, who understands the importance of service as not a temporary obligation, but an enduring connection.

"Like most lawyers, I have a relationship with the families. I don't close a file and put it away and forget about them. It's a lifetime relationship with my clients in all sorts of different ways. It's representing them in worker's compensation, representing them in Social Security disability and all sorts of other matters on the legal side, but also then going to their funerals and their children's bar mitzvahs."

Embry's dedication to serving his clients parallels the mission of SIS.

"In my introductory remarks at the conference, I said that one of the things that makes me the proudest is that I went to a school with service in its name," he said. "There aren't many schools that do that. It's not a school of management – it's a school of service, and it's reflected in the way our students and alumni serve after they graduate."

The event featured academics, lawyers, and members of the private sector. Acting Secretary of Labor Seth Harris provided the keynote address, followed by a discussion with SIS Dean James Goldgeier.