Alumni
SIS Alumnus Wins ROTC Scholarship Award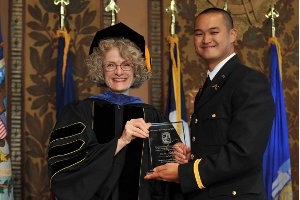 As a high school student, Daniel Gogue, SIS/BA '13, knew just what he wanted from his college experience. 
He applied to AU specifically to earn the School of International Service's international relations undergraduate degree. "AU (and SIS) attracts an extremely experienced team of professors and researchers who add a new level of depth to the field," he said.
His focus wasn't limited to academics alone. The Frederick Douglass Scholar also applied to the D.C. consortium Army Reserve Officer Training Corps (ROTC) to continue a family tradition.
"My father, one of eleven children, and his brothers all served in some branch of the military," said Gogue. "My admiration and respect for my elders who served eventually led to the decision."

It was easy for the highly-motivated Gogue to manage both his ROTC and academic commitments.

"Success in ROTC is largely based on one's ability to fulfill three roles: warrior, scholar, and athlete," he said. "I managed to make these roles mutually reinforcing. My desire to succeed and stand out in my ROTC program was motivation enough to push myself during our weekend training exercises, at the gym or on the track, and in the library."

Despite the challenges of scheduling, he even joined a fraternity, Pi Kappa Phi. Gogue wanted, and was able, to have "a real social life." Even his Greek life still overlapped with his military activities – Gogue and his brothers raised over $2,000 for various charities, and, in a highlight of his college career, was able to garner funds for the Wounded Warrior Project by completing the Marine Corps Marathon.
Throughout his time at AU, Gogue excelled at both his studies and in the ROTC, graduating magna cum laude from SIS as a member of the international relations honor society, Sigma Iota Rho, and receiving the ROTC's Consortium Provost Award, given to the cadet who achieves the highest scholastic standing at a consortium school.
Five out of the nine graduating AU cadets, including Gogue, attained the title of Distinguished Military Graduate. "This is over a third of our commissioning class and is an extremely large proportion with respect to other ROTC programs," he said.
While Gogue's academic coursework may be finished, the rest of his Army training is just beginning. He will head next to Fort Benning, Ga., for his Basic Officer Leader's Course. Within the next five years of his service obligation, he plans a rigorous educational schedule to rival the intensity of his AU classes: training as an Armor officer and attending the Army Reconnaissance Course and Airborne School.

With the future ahead, Gogue looked back how his determination paid off.
"Here I am now," he said, "four years later, a college graduate and newly commissioned second lieutenant in the United States Army."