International
Internship Awards Allow Students to Broaden Their Horizons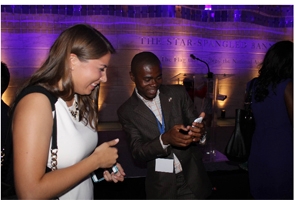 Three years ago, Dean Jim Goldgeier created the School of International Service Undergraduate Summer Internship Award to allow students access to summer opportunities they might otherwise be unable to pursue. The program provides a stipend for selected students with demonstrated financial need to support their participation in unpaid summer internships in the Washington, D.C. metropolitan area.

The funds support students who otherwise would not be able to complete unpaid internships over the summer. Internships are meaningful and experiential educational activities that enable students to apply what they have learned in the classroom in a real world setting. They also provide substantive professional development opportunities and access to professional networks that are crucial for future job searches.

These SIS students participated in the internship program this summer: 

Jessica Agostinelli is a rising senior, focusing on foreign policy in the Middle East. She interned at the Brookings Saban Center, where she supported senior staff and assisted with research projects that enabled her to delve deeper into U.S. foreign policy and the politics of the Middle East. She is interested in pursuing work in the Foreign Service and/or at a think tank and this internship provided insight in both areas.  

Kristina Boichuk is a rising senior with interests in international politics and economics. She interned for the Economic Development Administration in the U.S. Department of Commerce. She learned about economic development through a federal lens working under the Assistant Secretary for Economic Development and other senior officials. She hopes to bring the skills acquired through this internship back to her native Ukraine to help build a prosperous and sustainable democracy.  

Victoria Langton is a rising senior whose interests include national security, foreign policy, and Europe. She was a social media intern in the communication department at the Woodrow Wilson International Center for Scholars. She generated new content for various social media platforms and also assisted with photo and copy editing. Victoria aspires to be a photojournalist abroad and used this experience to hone her communication skills using new media platforms.  

Haili Lewis is a rising senior with interests in U.S. foreign policy and intercultural communication. As the partnerships intern at Voto Latino, she ran an initiative to partner with Latino student organizations across the country to promote and increase voter registration. She is open to pursuing a variety of careers and her internship at Voto Latino provided her with insight into the world of non-profit organizations.  

Brina Malachowski is a rising senior focusing on national security and Russian language. She interned at the National Consortium for the Study of Terrorism and Responses to Terrorism (START), where she conducted research on a project commissioned by the Domestic Nuclear Detection Office. Her research involved profiling criminal and extremist organizations in the United States in order to determine their willingness and capability to smuggle nuclear or radiological material that might be used in a terrorist attack. This experience provided Brina with a stepping stone to future professional endeavors in this area.  

Casey Murphy is a rising senior with interests in environmental policy, Sub-Saharan Africa, and French language. She interned with the Bureau of African Affairs at the State Department, where her work involved outreach to foreign and domestic audiences in the lead up to two key events: the Presidential Summit for Washington Fellows and the U.S.-Africa Leaders Summit. In the future, she hopes to work on resolving environmental issues in Africa. Her internship equipped her with the skills needed to work in this area by providing her with knowledge of U.S.-Africa policy and strategies to engage with Africans at home and abroad.  

Mehmil Zia is a rising junior interested in U.S. foreign policy in South Asia. She interned at the Department of State's Foreign Service Institute working in the South and Central Asia Studies division of the School of Professional and Area Studies. Her responsibilities included creating ambassadorial briefing books, syllabi, courses, and a webpage catered specifically to Foreign Service students. This internship provided Mehmil with insight into the Foreign Service and access to a network of professional contacts and mentors who can advise and assist her as she sets down the path to becoming a Foreign Service officer after graduation. 

Learn more about internship opportunities while at SIS.

Learn more about how to support student opportunities at SIS.