International
Spotlight on the Ethics, Peace, and Global Affairs Program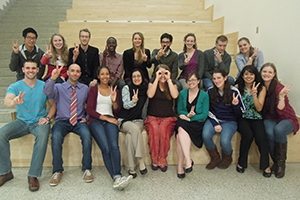 The Ethics, Peace, and Global Affairs (EPGA) program at the School of International Service offers an ethical response to contemporary global problems. Guided by the idea of "positive peace," the master's program prepares graduate students broadly in the practical application of ethical theory and policy analysis to difficult ethical choices in global affairs, and specifically to the dynamics of war, peace, and conflict resolution.
We asked Professorial Lecturer Jeffrey Bachman, director of the EPGA program, and Lauren Reese, the EPGA program coordinator, to tell us more.
What is the mission/vision of the program?
The Ethics, Peace, and Global Affairs (EPGA) program is committed to cultivating global citizens. Through the application of ethics and social justice principles, EPGA students are challenged to critically explore complex global issues and structures, including environmental security, the protection of indigenous communities, U.S. drone policy, and human trafficking. The EPGA program is particularly passionate about its active engagement with local, national, and global communities.
How is the program unique?
The EPGA program is a joint MA degree program shared by the International Peace and Conflict Resolution (IPCR) program in the School of International Service (SIS) and the Department of Philosophy and Religion in the College of Arts and Sciences (CAS). This partnership offers students a unique opportunity to learn how to apply ethical theory and policy analysis to pressing global issues. Students in the EPGA program study with faculty from diverse disciplines and fields of study. This allows students to tailor specific areas of study to their interests and helps them cultivate the ability to explore global issues through diverse lenses.
What are some things your program does to further your students professionally?
The EPGA program maintains a broad network of scholars, practitioners, and activists, both in Washington, DC and internationally. It also offers an annual practicum that fulfills students' capstone requirement for graduation. During the practicum, students have the opportunity to work closely with a partnering organization on a project of mutual interest. In the first two years EPGA has offered practia, partners have included Freedom House, the Office of the United Nations Special Rapporteur on Freedom of Expression, Bahrain Center for Human Rights, and Americans for Democracy and Human Rights in Bahrain. The program also coordinates and co-sponsors ten to fifteen events each semester that offer students direct engagement with prominent figures who are working on issues relevant to their studies and interests.
Describe the students in your program.
EPGA students are philosophers, activists, and community-builders. They are members of the military and they are faith leaders. EPGA students come from varied communities in the United States, as well as Africa, Asia, Latin America, and Europe. Our students range from first-generation college students who recently graduated from their undergraduate institution to seasoned professionals who hold other graduate degrees. EPGA students are a diverse, close-knit group who share a deep passion for transforming global society without losing sight of the human element along the way.
Learn more about the EPGA program.