International
Spotlight on the Social Enterprise Program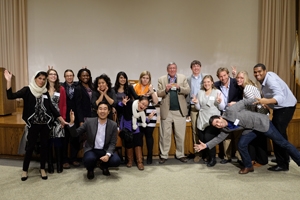 The Social Enterprise (SE) program at the School of International Service allows students to develop the knowledge, skills, and mindset necessary to become social entrepreneurs. SE, a practitioner-oriented program, examines both management practices and the global dynamics of social innovation. Students are encouraged to drive societal change by providing innovative and economically sustainable solutions to public problems. SE is the first program of its kind offered by an Association of Professional Schools of International Affairs member and is among the few graduate degrees available worldwide that directly focuses on social entrepreneurship.
We asked Robert Tomasko, director of the SE program, to tell us more:
What is the mission/vision of the SE program?
The SE master's program prepares its students to take leadership roles in helping shape the exciting and growing new field of social entrepreneurship. Social entrepreneurs combine non-governmental organization (NGO) activists' passion and concern for social impact with private sector techniques of innovation and management. SE students study both social innovation and hard and soft management practices.
How is the program unique?
SE is one of a handful of graduate degrees worldwide that permits its students to focus fully on social innovation. Based in an international relations school, the program allows its students to study with others who prioritize having an impact on society over personal gain. SE's flexible and multidisciplinary curriculum allows for customization around specific career interests, which encourages students to take both courses in SIS and across American University.
What are some things your program does to further your students professionally?
The program attracts action-oriented doers. Students begin their study with a twelve-week consulting assignment at a Washington, DC social enterprise organization and complete it with a two-semester practicum project that they design themselves. The SE program is cohort-based, which means that students can participate in classes and experiential learning assignments alongside the same group of students. SE students build internships and jobs into their studies, some with ventures they have started. They also engage in "action research." For example, a student team recently published its analysis of the failure of a prominent social enterprise, titled "Cause for Reflection," in the Stanford Social Innovation Review. Another team is examining the potential of factory audits to eliminate sweatshops.
Describe the students in SE.
About half of the entering students have a business background, while the other half come with experience in the social sector. Each group seeks to learn from the other, a collaborative process that the cohort structure facilitates. The students use their entrepreneurial interests to develop projects that drive social change, including removing buried land mines, creating a role for a New York City fashion company to help rebuild Rwanda, and using music to unite Israeli and Palestinian teenagers. Our students are ready for any challenge!
Learn more about the SE program here: http://www.american.edu/sis/socialenterprise/index.cfm