International
Faculty Share Best Practices in SIS Teaching Series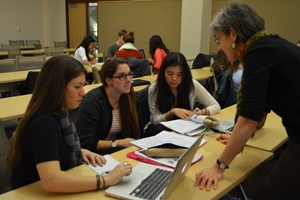 The School of International Service (SIS) is committed to nurturing teaching. To uphold this commitment, SIS offers a teaching series -- the only one of its kind at American University -- that is both facilitated by and designed for its faculty.
Faculty members are encouraged to share best practices with one another through informal roundtable workshops, a "Teaching Café" that brought together some fifty SIS faculty members last fall, and individual consultation sessions held throughout the year. The goal of the series is to build community and to further strengthen teaching and pedagogy at SIS.
"AU -- and especially SIS -- has a strong commitment to teaching," explained Assistant Professor Elizabeth Cohn, the SIS Faculty Coordinator for Teaching and Student Learning. "We hope to create a space where faculty can come and share best practices, learn new pedagogy, take risks, and be innovative so that they maintain excitement about teaching."
Cohn has coordinated the teaching series since fall 2013. The initiative was created under the tutelage of Professor Patrick Jackson, Associate Dean for Undergraduate Education and Professor Tamar Gutner, Associate Dean for Faculty Affairs and Graduate Education.
The roundtables are designed to highlight the varied teaching areas of expertise of SIS faculty. Past panels have ranged from familiar topics, such as Professor Robin Broad's session on how to teach writing, to less traditional conversations about how to incorporate laptops, cellphones, and tablets into the classroom, with Professor Jackson.
The most recent roundtable, held on April 14, focused on grading -- specifically, how to give efficient yet effective feedback on papers and exams, a critical skill as the end of the academic year approaches. Cohn facilitated the discussion on how to shift the focus from giving students feedback to justify the grade versus giving it to teach them how they can improve.
Cohn is pleased that faculty members have been engaged and enthusiastic about these discussions.
"There was an amazing energy level in the room at our fall Teaching Café. People were so focused on the conversation and were even still talking about it in the hallway afterwards," said Cohn. "This series has provided a great opportunity for us to share and learn from each other."
Cohn also offers individual consultations for faculty. During these confidential sessions, Cohn often reviews syllabi, counsels on classroom management techniques, suggests assignments and exercises that extend beyond traditional lectures, papers, and exams, provides rubrics on participation and grading, and discusses pedagogical innovations.
The series has been so successful that Cohn is already planning another Teaching Café for the fall. Cohn is also focusing her efforts on targeting specific cohorts, including PhD students, teaching assistants, and first year seminar instructors. She is eager to not only contribute to, but elevate the conversation on teaching at SIS.
"SIS has so many faculty members who are phenomenal teachers. It is wonderful that SIS has made teaching a priority," said Cohn.
Faculty who are interested in learning more about upcoming events and consultation sessions may contact Professor Cohn at ecohn@american.edu.