International
Institute Advances Research at SIS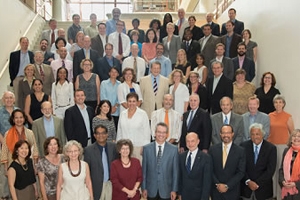 As faculty and students seek to collaborate on cutting-edge research at the School of International Service, they are assisted and advised by a special office that supports research. Launched in 2011, the International Affairs Research Institute (IARI) works to support faculty, staff, and doctoral students as they seek to operationalize their research and acquire external funding.
Unique at American University, the institute was founded by Dean James Goldgeier to enhance the research culture at the school and to raise the profile and visibility of SIS as a leading research institution addressing the global challenges of our time. The IARI team won this year's SIS Award for Innovation and Change in recognition of its creative efforts toward this end.
IARI's four-pronged mission is to:
• encourage, support, and advocate for faculty as they pursue research and seek external funding for research;
• undertake outreach to prospective institutional partners and project collaborators;
• advise, train, and support faculty, staff, and doctoral students as they pursue proposals for external funding; and
• promote and disseminate faculty research to external audiences, with hopes of facilitating new research collaborations and institutional partnerships.
To date, IARI's success is evidenced by the range of proposals submitted on behalf of faculty and the number of awards received. Within the last fiscal year alone, IARI has facilitated the submission of nearly forty proposals and has brought in approximately $4.5 million in external awards to the school.
IARI's three-person team, led by Assistant Dean Mana Zarinejad, works with faculty from start to finish as they pursue external funding, beginning with initial research project conception, identifying specific funding opportunities, drafting proposals and accompanying budgets, and ensuring successful proposal submission.
The office's role also extends to supporting faculty research more broadly, including hosting book incubators, which are special workshops with leading scholars within and outside of the school that guide faculty members as they prepare their manuscripts prior to publication. Other services of note include hosting program officers from the funding world, book and journal editors, and other scholars in support of connecting research agendas among faculty to external audiences.
External support for SIS faculty research originates from a range of sponsoring organizations, including the Carnegie Corporation of New York, the National Endowment for the Humanities (NEH), and the Department of State.
SIS faculty research focuses on a wide variety of timely, contemporary issues that showcase the school's role as a premiere school of international affairs. Whether it is examining new peacebuilding techniques or evaluating the effects of mobile technology in cross-cultural settings, SIS faculty research is innovative and entrepreneurial and aims to address issues that matter most.
Learn more about research at SIS: http://www.american.edu/sis/iari/
Looney is the Assistant Director of IARI.