International
World Environment Day – Three Questions for Ken Conca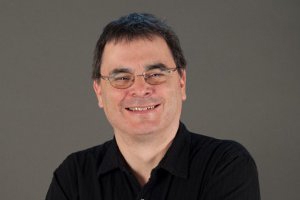 The United Nations World Environment Day on June 5 is meant to encourage worldwide awareness and action for the environment. We asked Professor Ken Conca, author of the forthcoming book, An Unfinished Foundation: The United Nations and Global Environmental Governance, to reflect on environmental progress and challenges:
Q: The World Environment Day theme this year is "Seven Billion Dreams. One Planet. Consume with Care." What does the United Nations hope to highlight this year?
Each year, the United Nations underscores a specific theme on World Environment Day. This year, the emphasis is on the responsible management of natural resources. Particular attention is being paid to actions people around the world can take—cutting down on food waste, conserving energy, shifting to renewables, and using water wisely.
The UN tends to promote an optimistic, can-do message on these symbolic occasions, exhorting people to do their part for the planet. But there is a danger of the message being too weak for the challenges we face. Scientists studying biological diversity refer to our era as the "sixth extinction," comparable in scale and scope only to a handful of abrupt shifts in the planet's history. Human beings use almost half of the available runoff of fresh water, with dire consequences for critical freshwater ecosystems around the world. The World Health Organization estimates that more than three million people die prematurely each year due to air pollution. Today, more than two billion people lack a simple, water-based sanitation system of the sort that was introduced at the height of the Roman Empire, two thousand years ago.
The UN does important work on the environment every day, but many of its initiatives have seen a loss of political momentum in recent years. We saw this quite clearly at the last major global environmental summit, the "Rio+20" conference held to mark the twentieth anniversary of the original Earth Summit. Governments proved unable to agree on all of the meeting's major agenda items: the transition path toward a green economy, how to reform the UN's environmental institutions, what to include in a new set of Sustainable Development Goals, whether a new agreement is needed for the world's imperiled oceans, or how to break the political paralysis on climate change. In the end, it took some skillful diplomacy even to agree on a vague and largely meaningless outcome statement, and the conferees kicked all the major issues back to the UN General Assembly—as though that body were not made of exactly the same governments that had just failed to agree.
Q: The next major United Nations climate change conference will be held in Paris at the end 2015. What is the objective of that meeting and what are its prospects?
The world's governments have been meeting annually for more than two decades now, ever since the 1992 UN Framework Convention on Climate Change, seeking a binding mechanism to address the climate problem. Climate change reflects all of the attributes that make global environmental problems difficult to solve: the problem is complex, knowledge is contested, national interests are often in conflict, and some very powerful actors have the ability to preserve the status quo. After several years of governments' failing to find a formula for globally mandated emissions reductions, the Paris conference is shaping up to produce a much weaker regime in which countries put forward voluntary commitments (as many have been doing already in recent years).
Unfortunately, what governments won't be discussing at Paris is their human rights obligation to take rapid, serious action on the issue. Climate change is a human rights threat in several ways. Its harmful consequences will hamper the realization of a broad range of human rights, including rights to life, food, water, health, housing, and self-determination. The consequences of a changing climate—including shifts in water availability, an increase in extreme weather events, sea-level rise, the loss of snow cover and sea ice, and changing patterns of agricultural productivity—will disproportionately threaten poor and marginalized communities around the world, even though they have played little or no role in causing the problem. And human rights are at stake not only in the effects of climate change, but also in the policy responses to it, some of which include controversial provisions for land use and community access to natural resources. Communities with the most to lose thus find themselves threatened not only by the outcomes of climate change, but also by their lack procedural rights—access to information, decision making, and redress—in climate diplomacy.
Q: Why has the international community made so little progress in solving global environmental problems and addressing climate change?
It is hard to imagine effective responses to these problems without a strong role for the United Nations. For all its flaws, the UN remains the only plausible forum for engaging broadly global challenges. It is the only venue in which a sufficiently wide range of voices may be heard as we seek to forge a robust consensus on admittedly very difficult political problems. It has been the most important catalyst for negotiating international environmental agreements among nations, and the most important focal point for disseminating new ideas and practices for better environmental stewardship. The most important environmental accomplishments of the past forty years—the rise of global environmental awareness, the birth of key ideas such as sustainability, the negotiation of important treaties—all bear the UN stamp in one way or another.
But the UN needs a new strategy. When the global organization was created after World War II, it was given a four-part mandate in the UN Charter: international peace and security, human rights, development, and the creation of a world system based on international law. Unfortunately, the environment has come to be understood as relevant to only part of that mandate. As I explain in my new book, An Unfinished Foundation: The United Nations and Global Environmental Governance, the UN approach has stressed what might be termed "better law between nations and better development within them"—while largely failing to treat the environment as a human rights issue or a threat to international peace and security. As a result, some of the UN's most effective tools go unused, and an effective, system-wide response to environmental challenges has been largely blunted.
In my book I recommend several steps to reinvigorate UN initiatives, including recognizing the environment explicitly as a human right; making a stronger commitment to rights-based practices in environmental protection; acknowledging that the international community has a responsibility to protect people from dangerous consequences of environmental change; finding an effective (but limited) role for the UN Security Council on the conflict-related aspects of environment and natural resources; and exploiting opportunities to use environmental cooperation as a peacebuilding tool, in order to break the cycle of economic marginalization, conflict, and environmental degradation in which too many of the world's poorest communities find themselves trapped.
For media requests, please call J. Paul Johnson at 202-885-5943.