International
Internship Awards Provide Career Experience for Students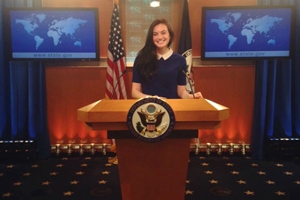 Six undergraduate students in the School of International Service (SIS) have gained career experience this summer in the field of international studies through funding from the SIS Internship Fund. The SIS Internship Fund provides assistance to undergraduate and graduate students to pursue unpaid or international internships to enhance their academic experience and career prospects.
Four undergraduate students received funding from the SIS Internship Fund. Dean James Goldgeier created this award program four years ago in order to assist students with demonstrated financial need to support their participation in unpaid internships in the Washington, DC metropolitan area.
Two undergraduate students received funding from the Fred & Jean Allegretti Foundation, which provides financial support to educational institutions and other nonprofit organizations.
The awards provide students with career experience, invaluable professional development opportunities, and access to professional networks—all of which can enhance their future job searches.
Read more about the students and their internship experiences:
Mehvish Jamal, SIS/BA '17, is in the Frederick Douglass Distinguished Scholars program. She is a double major in international studies with a focus on environmental sustainability and economics and a minor in entrepreneurship. Jamal received an award for summer employment with MISFIT Juicery, a startup social enterprise that fights food waste by processing fruits and vegetables that are not up to cosmetic standards into cold-pressed juice. As the strategic operations associate, Jamal was responsible for a variety of business operations tasks, including hiring employees, developing an employee training manual, creating financial statements, working on the company's branding strategy, and researching methods of measuring social and environmental impact. After graduation, she hopes to pursue a career in social enterprise.
Jamal says, "I am incredibly passionate about harnessing the power of business to address pressing social and environmental challenges. This experience has helped me confirm that I am deeply passionate about entrepreneurship and that I would someday like to start my own social enterprise, while allowing me to apply what I have learned in the classroom in a real-life setting and to develop new skills and experience."
So Lee, SIS/BA '17, is an international studies major with a concentration in international development. She worked for the Center for Strategic and International Studies (CSIS) as a research intern for the Korea Chair. As part of her internship, Lee monitored current events related to the Korean peninsula and wrote weekly policy issue briefs on topics including South Korean domestic politics, trade, and economics, the United States-Korea alliance, North Korea, and global relations. She also researched and wrote brief biographies of foreign policy leaders in current events. Her main duties included conducting policy-research and writing for articles, conference reports, event summaries, grant proposals, and data collection. Upon graduation, Lee hopes to pursue a master's degree in public policy with a focus on global health and ultimately, to work for an international organization. Lee received funding for her internship from the Fred & Jean Allegretti Foundation.
Jamie Sheasley, SIS/BA '17, is studying foreign policy and national security, as well as global and comparative governance. She is also obtaining a minor in history. Sheasley interned for the U.S. Department of State's Bureau of International Organization Affairs, which focuses on utilizing multilateral engagement to advance U.S. interests in issues such as peace and security, nuclear nonproliferation, human rights, economic development, climate change, and global health. Her duties included assisting with the East Asia and Pacific Affairs portfolio. Sheasley has enjoyed interning for the State Department and plans to pursue a career as a foreign or civil service officer for the State Department, either in the political or public diplomacy track. She received funding for her internship from the Fred & Jean Allegretti Foundation.
Casia Thompson, SIS/BA '17, is interested in environmental sustainability and global health. Thompson interned at Voice of America, the official external broadcast institution of the U.S. federal government. She is excited that this internship has allowed her to access and communicate with other cultures on topical issues via a leading news platform. Upon graduation, Thompson hopes to continue to pursue a career involving media and multiculturalism.
Andrew Yaldaparast, SIS/BA '17, is focusing his studies on global economy and governance. He also plans to graduate with an economics minor. Yaldaparast interned for the Department of Commerce in the International Trade Administration (ITA). He worked in the global markets office, which promotes American business overseas by providing information on how to export and create match-making programs for United States exports. Yaldaparast supported ITA administrative and communications teams by providing metrics and other information regarding the impact of the activities of ITA's domestic offices. Yaldaparast plans to intern with the State Department this fall and is also interested in looking into the private sector for future career opportunities.
Abigail Yarger, SIS/BA '16, is studying international relations with a focus on foreign policy and international development. Yarger served as a business development intern for the International Center for Research on Women (ICRW). Yarger assisted with project proposals, grant writing, and grant research. She was responsible for reviewing new project opportunities related to transforming gender norms in the international arena and combating gender based violence and preventing child marriage. Additionally, Yarger reported on newly funded projects, including ICRW's leadership at the Girls not Brides conference in Casablanca and partnerships with the Gates Foundation and USAID. She also coordinated with the ICRW Asia Regional Office in New Delhi. She aspires to pursue a career working in a diplomatic or humanitarian capacity. Yarger is particularly interested in returning to the Balkans to participate in reconciliation efforts and conduct local research. She also hopes to return to India to continue serving as an English teacher at the Shanti Bhavan School for Dalit children in the rural south.
Yarger says: "I am dedicated to addressing global women's issues, as I believe women and girls are an essential solution to poverty alleviation and progress. I am intent on participating with communities and policy makers abroad. I also envision myself supporting refugee communities internationally and conducting interpretive research in the field."
Learn more about internship opportunities at SIS.
Learn more about how to support student opportunities at SIS.