International
High School Students Explore International Affairs at SIS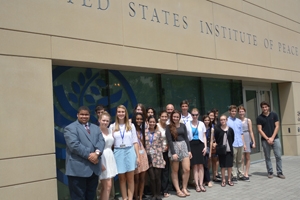 Eighty-one high school students from around the world participated in the 2015 Community of Scholars program at the School of International Service (SIS) in July, the largest group to date since the program began in 2008. Community of Scholars (COS) is a rigorous college-credit summer program designed for rising high school juniors and seniors interested in international relations.
"There are not always opportunities to explore an interest in international affairs in high schools, so this is an opportunity for students to pursue that with likeminded peers," said Page Hogan, director of pre-college programs at SIS. "It also allows them to bolster their college applications and get a taste of college."
From taking college-level classes, to visiting embassies, to playing Capture the Flag on the quad, COS participants receive an unprecedented opportunity to experience life as college students in Washington, DC.
Students enroll in one of the following three-week courses for three hours of college credit:
• Worlds Apart, Worlds Together, Conflict, Culture, and Cooperation: Professors Dylan Craig and Mirjana Morosini
• Diplomacy and Dictators: U.S. Foreign Policy in an Uncertain World: Adjunct Instructor Edward Lucas, SIS/PhD '16, and Professor Garret Martin
During the first week, the students access lectures online from home, engaging in discussion with their professors and peers via podcasts and video lectures. The following week, they move into dormitories at American University and attend classes on campus for two weeks. The courses, taught by SIS faculty, feature hands-on simulations in national security strategy and conflict assessment.
The participants also go on site visits throughout Washington, DC, experiencing what it might be like to study and work in the nation's capital. This year, students visited the U.S. Department of State, the World Bank, the Saudi and Canadian embassies, and toured monuments and museums along the National Mall. They also participated in community service projects at Capital Area Food Bank and St. Luke's Mission Center.
Another goal of the program is to introduce students to career opportunities in international affairs. Guest speakers this year included SIS Diplomat in Residence Ambassador Sally Shelton-Colby, SIS professor and journalist Colman McCarthy, and recent SIS alumni, who discussed their careers in international relations with the students. David Fletcher, career advisor at SIS, organized the alumni panel and also led a workshop on resume writing.
Many COS students decide to apply to American University for college. In 2015, 43 COS students applied to AU; of those students, 37 were admitted and 22 will enroll this fall.
"We are thrilled to welcome so many of our students back to AU for college. And we have received wonderful feedback on this program," said Hogan. "The students are engaged and some parents have even said it has been a life-changing experience for their children. We couldn't be more pleased to hear this, and we look forward to seeing the program continue to grow."
To learn more and apply, visit the Community of Scholars website: http://www.american.edu/sis/CommunityofScholars/index.cfm