International
SIS Names Alumnus of the Year 2015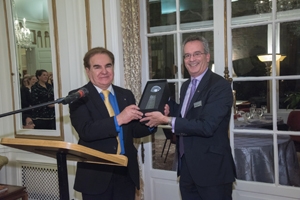 In a ceremony at the residence of the Ambassador of India to the United States, Mehdi Heravi, SIS/PhD '67, received the School of International Service's (SIS) highest alumnus honor, the 2015 SIS Alumnus/a of the Year award. Nearly 100 alumni, faculty, staff, and friends, including American University Board of Trustees Chair Jack Cassell, attended to celebrate Heravi's achievements and his commitment to service.
Heravi, now retired, had a distinguished career in academia. After receiving his PhD from SIS, Heravi taught at Tennessee Tech, and later in his career, held several vice-president posts at the National University of Iran and at Razi University. He eventually rose to the position of provost. Heravi has researched a variety of topics in international affairs, including Iranian-American diplomacy.
Before the program, guests mingled in the ornate, lavish rooms – adorned with chandeliers, Indian tapestries, statuettes, and other artifacts.
Opening remarks were delivered by His Excellency Arun Singh, his wife SIS Scholar in Residence Maina Chawla Singh, and Guru Amrit Khalsa, SIS/MA '14 and Noah Kowalski, SIS/MA '13.
Goldgeier then delivered his remarks, honoring Heravi for his service to the school.
"He has been a most generous donor, a trusted advisor, an advocate and fundraiser for the School, and someone I have had the privilege to call a dear friend since my arrival at the School of International Service four years ago," said Goldgeier.
Goldgeier then presented a gift to the Singhs for their generosity and Heravi with his award.
Heravi gave a humorous speech, noting the differences in today's world versus in 1967, when he graduated – noting, "LSD is no longer needed to envision a crazy world." Despite this, he asserted that SIS graduates are well prepared to tackle the global challenges they will face. He concluded his speech by thanking Dean Goldgeier, the Singh family, and SIS.
"I have always drawn comparisons between India and American University," mused Heravi. "India is unique and a one of a kind country. Likewise, American University is one of a kind among American Universities. Thank you for this honor."
Goldgeier approached the podium with one final announcement. As a surprise, a two-tiered birthday cake was rolled out for Heravi – to celebrate both his recent birthday and the prestigious award he had just received.
Since 1998, the SIS Alumnus/a of the Year award has recognized an SIS graduate or undergraduate alumnus/a who exemplifies the ideals and values of the school — a change agent serving the community and helping to make the world a better place in the public, private, or nonprofit sector.
Learn more about the SIS Alumnus/a of the Year Award: http://www.american.edu/sis/alumni/oftheyear.cfm