International
Chief Impact Officer Discusses Innovation and Education at SIS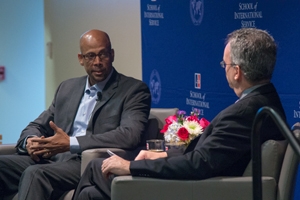 James Shelton, the Chief Impact Officer of 2U, Inc., visited the School of International Service (SIS) in December to discuss innovation and education with Dean James Goldgeier. The event was held in conjunction with the Kogod School of Business.
2U, Inc. partners with leading schools, including SIS, to deliver innovative online degree programs.
As 2U's Chief Impact Officer, Shelton oversees university partner program implementation, research and university relations. He is the former Deputy Secretary of the U.S. Department of Education and has led a variety of management, policy, and program functions in support of educational access and excellence for children, especially those least advantaged. In all of these roles, Shelton has achieved meaningful social impact—and according to him, a phenomenal social impact of online education is the ability to increase access to college.
"Access is an obvious benefit. All of a sudden people who can't pick up their lives and come to campus—who aren't in a position to quit their jobs or leave their families—have access to the best education in the world, including the programs at SIS," said Shelton. For instance, one-third of the students in SIS's online programs are actively serving in the military.
"Without the option to pursue their degrees online," Shelton continued, "how many of these people would have had miss out on a college education? How many would have just sat on the sidelines saying, 'I can't chase this dream. I don't want to take on enough debt to quit my job and move so I can go to school.' All of a sudden, the internet's ability to provide more people with greater access to higher education is a part of the equation."
On the other side of the equation are the colleges and universities that are working meet the growing demand for online degree options. SIS is leading the way in this trend, as the only top-ten ranked school of international affairs to currently offer fully online graduate degrees. Still, as macrotechnology trends like high speed connectivity and big data become more and more advanced, Dean Goldgeier asked Shelton a pressing question—what will universities have to do to evolve?
Shelton underscored that universities should not vilify technology. Nor should they view technology as a destination to be reached for its own sake. Instead, technology should be used as a tool to provide all students, even if they live on the other side of the globe from SIS, with stimulating and rewarding academic experiences.
"When designing an effective online curriculum, it is important to remember that college is not only about academic achievement, but many other things," Shelton stressed. "Students want to attend school so they can find opportunities to develop their professional expertise. They also want to build social capital, to make lifelong friends and to connect with faculty members and other experts. Ultimately, students want to taste their aspirations to be better people. All of those qualities are things that people will continue to value. The question we should address is: how can we use macrotechnology to help universities become better versions of themselves?"
Shelton said that an effective online program must incorporate the most treasured qualities of the college experience, including the opportunity to engage with instructors and classmates in a face-to-face setting. 2U facilitates interactive learning through its innovative No Back Row™ approach—which, as the name implies, ensures that every student's face is seen and every voice is heard.
SIS's IR Online graduate degrees, the Master of Arts in International Service (MAIR) and the Executive Master of International Service (MIS), for instance, both offer collaborative, live classes. Over the course of the programs, students build meaningful relationships with peers and faculty in a face-to-face online setting. According to a recent survey, students often describe these programs as being "intimate".
During the discussion, Dean Goldgeier said that SIS is proud to partner with 2U to offer rigorous and interactive online programs.
"The kind of product that we deliver through our partnership with 2U is truly extraordinary," he declared. "It is incredible what we can accomplish through the programs we have. When I see the types of students who are coming into our program, many of whom have served in leadership roles in the military, I think about how they might not have had the opportunity to become SIS students and alumni otherwise. And because of the technology, our online students are collaborating with one another and discussing critical issues, just as they would on campus. It is truly an incredible opportunity and experience."
Watch the video of the discussion.
Learn more about online graduate degree programs at SIS.
Learn more about upcoming events at SIS.