Research
Transforming Oppressive Systems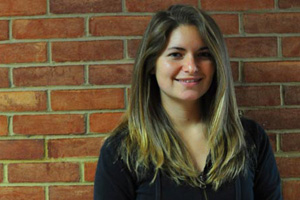 Sarah Brown, CAS/SIS '10, discovered her passion for Africa in a class about South African apartheid with sociology professor Bette Dickerson. There she learned about ubuntu, a Southern African philosophy that loosely translates to togetherness and acceptance of difference.
This concept spoke to Brown, a double major in women's, gender, and sexualities studies and international relations. "I thought, 'That's what's missing from the women's movement here.' It kind of grabbed me," she says.
Brown incorporated the philosophy into her senior capstone paper, "African Women's Movements: Toward a Feminist Conception of Security, Citizenship, and Nationhood," which received the 2010 Honors Capstone Research Conference Award. Her paper examines how and if African feminist movements are promoting transformative notions of security to alter the state-based, militaristic paradigm that dominates most African countries.
In her research, Brown found that several African feminist scholars called for a transformative conception of security that deconstructs the militarized state and creates a feminist notion of security in its place, one that dismantles the state's structure of hierarchy and oppression. "It wouldn't be the state that governs the citizens," says Brown. "It would be a reciprocal relationship between citizens and the state that is non-hierarchical in nature."
Next, Brown analyzed books, Web sites, and blogs from three African feminist movements: Kenya-based Gender 10, Women of Zimbabwe Arise (WOZA), and the transnational movement Women Writing Africa. She found that they all promoted transformative views of security, much like those of the feminist scholars. For example, one of WOZA's publications includes a drawing of the organization's ideal government: a mother, with arms spread, to all her children — an image that incorporates the interconnectedness of the ubuntu philosophy while replacing the notion of militarized, state-based security.
"In everything these movements published and in the ways they mobilize, they are able to deconstruct both the violent state and violent masculinity at the same time," she says. "They bring traditionally feminine private values of love and community and infuse those values on the new state that they're conceiving."
After graduation, Brown moved to New Orleans to participate in the Teach for America program.