Research
AU Students Place Second in Public Health Competition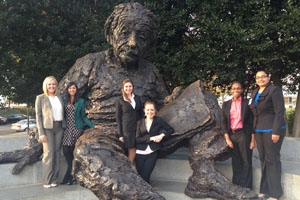 On November 15, six AU students Nicolette Davis, Kristen Rankin, Aapta Garg, Alexandra France, Karanpreet Takhar, and Kara Ingraham placed second in the DC Regional Public Health Case Competition held at the National Academy of Sciences in Washington, D.C. This year's competition, the first in DC area, was modeled after the Emory Global Health Case Competition and was sponsored by Georgetown University and the Institute of Medicine. The first place team received $1,000, the second won $500, and the third took home $250. The winning solution will also be published through the Institute of Medicine.
Other teams participating in the competition hailed from George Washington University, George Mason University, Howard University, the Naval Academy, and the Uniformed Services University of the Health Sciences. Along with first place winner Georgetown University, many of these institutions would seemingly have the advantage as they have schools of medicine, public health, or other health-focused disciplines, such as nursing.
The AU team's second place win is a testament to the university's approach to public health and other disciplines, says Lynne Arneson biology professor, interim director of the public health program and premedical programs coordinator.
"This was a great opportunity for our public health students to work with other people interested in the field," said Arneson, who worked with other faculty to recruit students to join the team. "They were able to work as an interdisciplinary team to address a public health-related issue."
Public Health Requires an Interdisciplinary Approach
But AU isn't alone in thinking that an interdisciplinary approach is the best approach to public health issues as the competition rules dictated that teams have at least three different disciplines represented among their three to six members. AU's final team included undergraduate and graduate students in public health (College of Arts & Sciences), international development (School of International Service), and public policy (School of Public Affairs).
"Everyone brought something interesting to the table," said international development master's student Kara Ingraham. "It was great to have different perspectives in the group. I have a political science background, but some people know management, or budget and finance, or public policy."
Senior public health student Karanpreet Takhar chose to participate to showcase AU's new public health program and her fellow students' talents in general. "American University is doing wonderful things in health, advocacy, and development," she said. "This was a perfect opportunity for us showcase our talent by competing against the best of the best in the Washington, D.C., area."
Alexandra France, a public health program senior, saw the competition as a way to utilize what she learned in her classes in a different way. "I got to put the theories I'd learned in the program into practice," she said.
International relations master's student Aapta Garg made the connection between the competition and her master's degree focus. "When I found out that the case was going to be about gender-based violence, which is one of my concentrations, I wanted to participate," she said. "I also wanted to make sure that I didn't stay purely focused on academics; I also wanted to address interventions, which is what I'll do once I graduate."
The Case
The students received the case on November 1. The task? Create a multi-faceted plan addressing violence against LGBT youth residing in D.C.
Teams had two weeks to prepare a 15-minute PowerPoint presentation explaining their proposed interventions to a panel of judges which would be followed by 10 minutes of question and answer.
To prepare for the competition, the AU team conducted research on gender-based violence in D.C. and other large cities and met a few times to discuss their findings and practice preparing other cases. The team spent a week planning an approach to try to determine the causes of youth LGBT violence and how they might be addressed. Once they came up with a plan, they reached out to a professor for feedback. "The professor said that our plan didn't really reduce the violence," said Ingraham. "It just danced around it."
It was back to the drawing board for the students.
As a group, they decided to focus on creating a continuing education program for the Metropolitan Police Department, which would better equip officers to respond to violence against LGBT youth. The team also developed a bystander intervention program to be initiated in D.C. high schools and a safe space campaign to educate high school teachers and administrators about LGBT issues. The third tactic was originally proposed by an LGBT alliance program run by the District of Columbia Public Schools. "A lot of times when you design intervention programs, it's about feasibility," said Garg. "You can't just create a one-size-fits-all intervention."
Applicable to Future Endeavors
A few of the students found the case competition particularly useful in planning their futures. "This was very relevant to my career goals," said Kristen Rankin, an international development and management master's student. "I'm hoping to design and manage similar projects in the field once I graduate, so this is great practice."
Nicolette Davis, a public policy master's student, hopes to apply to population health doctoral programs. She felt that participating in this competition gave her an edge that could help her in her future studies. "The competition gave me the practical experience of developing a targeted, multi-pronged intervention on a salient issue that required a really ambitious solution," she said.