Achievements
WaPo Fellow Wins 2013 Merriman Award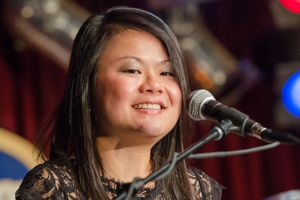 Journalism graduate student and Washington Post fellow Lynh Bui was selected as the 2013 winner of the Merriman Award, an honor named in memory of the CBS news writer John Merriman who was president of the Writers Guild-East.
"I'm honored to win the Merriman Award," said Bui. "The award honors Merriman's passion for good grammar, writing, and journalism, and I'm grateful to be recognized for sharing those same values."
She traveled to New York City to accept the award at the 65th Annual Writers Guild Awards. Bui says she was starstuck when meeting celebrities including Maria from Sesame Street, Lisa Lampanelli and Fred Armisen.
"After thinking about it, it made me proud to be in a roomful of writers. The range of talent in the room varied from people who write comedy to movie screenplays to television shows to news documentaries," she said. "But, at the heart, they all illuminate the human experience one way or another. I feel lucky to be a part of a profession that values that."
Journalism division director Jill Olmsted said the judges were impressed with Bui's clarity of thinking and her vision for the future of journalism, as outlined in her winning essay. "Lynh is a young journalist who has already made her mark on journalism and continues to do so in her current work as The Washington Post Fellow."
Bui says the School of Communication journalism program expanded my storytelling toolbox.
"I barely knew how to hold a video camera six months ago and now I'm filming a short documentary for professor Bill Gentile's class. I've produced NPR-style audio news features I'm proud to include in my portfolio. And I've also strengthened the foundation of my reporting skills I came to SOC with, working on investigative projects for the always-inspiring professor Chuck Lewis."
Bui has juggled covering an education beat for the Metro desk at the Post along with the intense course load in the graduate program at SOC but she says she came to the District to learn to be a better reporter, both in the classroom at American University and in the newsroom at the Post.
"I feel fortunate to be surrounded by a team of talented, dedicated journalists who help me with that goal on a daily basis. It's all humbling and inspiring. It pushes me to work harder each day to be better at what I do."
The Guild Awards are given for outstanding achievement in writing for the screen, from news to sit-coms and dramas, presented at simultaneous ceremonies in New York and Los Angeles. Richard Kind from the sitcoms Mad About You and Spin City hosted the New York event this year.