Campus News
Minar Takes Helm as Alumni, Development VP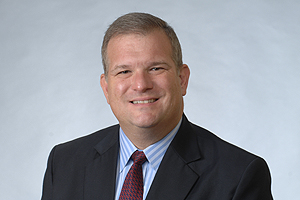 AU's new vice president of development and alumni affairs Thomas Minar is a man who sees relevance and connection in his work, and in the similarities between his former and his new professional homes. He joined AU after five years at Chicago's Roosevelt University, first as vice president for institutional advancement and then as a special assistant to the president.
Roosevelt was founded in 1945 to educate people who were denied access to an education for ugly reasons—principally skin color and religion.
Minar is struck by the similarities between AU and Roosevelt, by "how certain parts of [AU] were founded to provide for a particular need, and that the university has been called upon by the public sector to meet some of those needs."
The Pomona college graduate who now sits on its Board of Governors has spent his entire life in academe. He's from an academic family, and says, "this is the kind of culture that I function in. I believe that education is the opportunity for people to improve themselves and the world around us. Steps I've taken in my own training, career, and personal life are all rooted in my belief and understanding of, and love for a life in higher education."
Q: What drew you and President Kerwin together?
A: I come from a history of doing work in alumni relations. I think President Kerwin and I were attracted to each other for that reason. He to me, because I bring some perspective on alumni relations and [building] a global alumni program, and I to him and to this place, because of his deep commitment to our doing just that.
Q. How does joining this university in Washington, D.C., affect you personally and professionally?
A. I have a belief in public service and therefore a love for Washington. I'm also a political scientist, so I have a sense of reverence for our processes, institutions, and for the District of Columbia. I am thrilled to be here.
I think the challenge it brings me professionally and AU collectively is to find the intersection between public service and private interest that leads to philanthropy.
I believe philanthropy comes from passion, that giving comes from the heart, and if you build people's sense of passion for what you're doing in your philanthropic organization, eventually they'll give. It's a natural, it's sort of organic. That's not to say we can't do marketing; we have to ask, but it still comes from the heart.
Given our philanthropic history at AU that's a challenge. There's a lot of passion here. We have to find the connection—find ways to motivate AU constituents to come into the community and then to have passion.
Q. Do you see a fit today between AU's Methodist roots and its modern mission?
A. Absolutely. I met the Bishop (Trustee John Schol) and look forward to sitting down with him for a longer conversation.
I'm trying to understand where the lines of connection are between the church and the contemporary university. I see some small upticks in engagement of the church and the funding as well. I think it's important for us to keep those roots in mind, and I think it's important for us to remind the United Methodist church and its congregants that we're a good partner in certain intellectual and public service endeavors and that there can be relevance to this partnership; see if we can't find the relevance.
Q. What areas of your division do you envision building at this time?
A. We're studying where to go with building a new global alumni structure, and we are awaiting the outcome of the Strategic Planning process in order to find the drivers for that. We're also at this troubling time economically and looking at the significant impact of that on philanthropy.
According to GuideStar, one third of American charities say that their results are down from 2007.
Q. What is the status of the AnewAU Campaign?
A. At the president's circle dinner, the president announced the campaign had reached 85 percent of its goal—over $170,000,000.
We hope that the economy doesn't change our ability to close sooner rather than later. And we will celebrate when we do close it. The community needs to celebrate its own success in doing something that it set out to do.