Alumni
Michelle Sparck, SIS/BS '95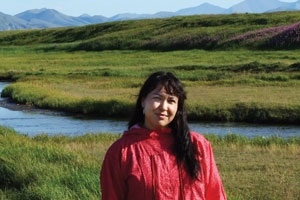 Few Americans have ever journeyed farther than Michelle Sparck to study at American University. Home is Bethel, Alaska, 480 air miles west of Anchorage. Which is 3,369 miles west of Washington.
"My mother is indigenous to western Alaska," says Sparck, a member of the Quissunamiut tribe. "She saw how valuable it was for us to know where we came from through my father's eyes. Our dad was from Baltimore. Even though we grew up in the hinterlands of Alaska, we would travel down states and become familiar with concrete. We even loved humidity."
She got plenty of both in D.C. After earning a degree in international studies, Sparck worked for the late Senator Ted Stevens and Representative Don Young before heading back to Alaska to rejoin the "we" she so frequently speaks of.
Sparck and her sisters, Amy and Cika, started a bath and beauty supply company that uses the natural resources of the vast Arctic wilderness that the triplets call home.
"The idea came from doing our annual gathering," she says. "We're still hunters and gatherers, as a people. It was our job to gather plants and berries to freeze for the winter. We always felt there was something more we could do with our modest take."
They got their chance in 2006, when their business plan won $20,000 in seed money in an Alaska Federationof Natives competition.
Arxotica was born.
The company, which was awarded another $70,000 from AFN two years later, sells skin creams, serums, lotions, and soaps infused with natural Alaskan plants, flowers, berries, glacier water, and salmon oil.
"We're Arctic super food for your skin," Sparck says. "These plants grow like crazy the second the snow melts. They have to be strong to withstand the effects of 20 hours of daylight in the summer and permafrost five feet below them. They're filled with nutrients."
The sisters gather the fireweed blossoms, crowberry, and wormwood, as their ancestors have for generations before them.
"Harvesting is not mechanized. It's all physically picked with our hands," Sparck says. "It's really hard, grueling labor, but we can pick at a good speed."
The business has no bricks and mortar; manufacturing, packaging, and shipping are outsourced. Online sales began in March 2011, and orders have come in from places as varied as Canada, Ohio, and California. Sparck hopes to expand the brand, but that's not her driving goal.
"It sounds frightening, but we want to change the face of western Alaska's economy," she says. "We think this is a growth industry that's manageable and sustainable. It's compatible with our subsistence way of life. We leave no footprint."
Thus ensuring that the land they love, like their customers' skin, remains forever young.