Achievements
Unconventional Approach Catches Attention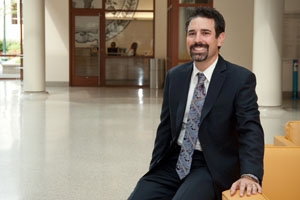 Step into Patrick Thaddeus Jackson's classroom and you're liable to get a baseball tossed at you. That's his preferred method of calling on students, so you better look alive.
Jackson, Associate Dean of Undergraduate Education in SIS, will pose a question or offer an idea about Hobbes or NATO or even Star Trek, and then throw a squishy baseball (he is a devoted Yankees fan) at a student to engage him or her in the conversation.
Jackson's classroom is anything but traditional. He eschews the notion of the bloviating lecturer — the "sage on the stage" as he calls them. Instead, he prefers to encourage students to embrace inquiry and debate.
At times, his classroom can seem chaotic. There are no PowerPoint presentations on which to take notes, no rote memorization, no rigid structure. That's what has made him stand out in the years he's been in academia.
It's also what caught the attention of the Carnegie Foundation for the Advancement of Teaching and the Council for Advancement and Support of Education. The organizations recently named Jackson the U.S. Professor of the Year for the District of Columbia. It's a prestigious honor and Jackson is in good company — among this year's winners were professors from Boston College, Emory University and University of Virginia.
"It's pretty difficult to be a great scholar and a great teacher," said SIS Dean James Goldgeier. "It goes to the heart of what AU is all about and Patrick epitomizes that."
AU sat down with Jackson to talk about the art of teaching:
AU: Why did you get into the profession?
PTJ: When I was four, I was part of one of the very first child psychological studies of gifted and talented kids. They had these classroom observations to see what gifted kids looked like. I have fond memories teaching the class about Egyptian hieroglyphics. I had chalk in my hand and I was drawing hieroglyphics on the board, explaining what their number system looked like. Louise Bachtold was the woman who ran the study. She was the first person who ever mentioned to me that I might want to think about being an academic.
AU: When was that university professor seed planted?
PTJ: I think I was six or seven. I had written her a letter and asked her what do smart people do when they grow up. Of course I wanted to be an astronaut. If I couldn't be a Jedi Knight, which was my other great career ambition as a child of the Star Wars era, I wanted to be an astronaut. Her reply to me was "Once you go on your space mission, you might want to think about being a college professor because that's a good profession for people who are smart and who can communicate." I thought ok, that's kind of cool. Then throughout most of my middle school years my nickname was "Professor."
AU: What was your first real teaching experience?
PTJ: During my BA, I spent a lot of time with the Federalist Papers. So I thought that's what I'd like to teach — political thought of the American Revolution. There was a small room with 40 people squeezed into it and I had written on an index card a couple of notes of stuff I would talk about. I figured this would be a little conversation. Then I just kind of started talking. And it was like Let's perform, let's put on the play on how the Federalist Papers worked and the debates between the Federalists and the anti-Federalists.

I'm standing there afterwards going Wow, that was a lot of fun. Your usual high-powered research grad school experience doesn't teach you to value that. There's a notion that teaching classes is something you do that distracts you from your real work, which is your scholarly research, which is read by 35 other people in the world.

AU: How do you balance scholarship and time spent in the classroom?
PTJ: After my PhD, I understood that the research was not actually the centerpiece of what I was supposed to do vocationally. The scholarship was important. But it was centered on the teaching. That was the thing I actually found much more fulfilling and interesting. It was more authentic than just being the smart guy at the front of the classroom.

AU: What makes you a good teacher?
PTJ: I know I'm doing a good job when one of the following things happens. A student comes to me after class or before class and says I never thought about this quite this way before. I hadn't really put those pieces together like that. I also tend to know that I'm doing a good job when someone starts off the semester kind of rigid in their beliefs about something and by the end of the semester, they're able to have a more civil disagreement that doesn't simply involve playing ideological trump cards.

Max Weber, a great idol of mine, suggested that the art of teaching was to make students confront what he called "uncomfortable facts." Weber goes on to point out that every single partisan position has its own set of uncomfortable facts. The whole art of teaching is to bring students into confrontation with the limits of their own perspective so they understand there are problems in the world that their existing answers aren't sufficient for.