On Campus
SIS Career Week Helps Students Put Their Degrees into Action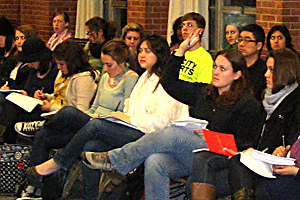 The School of International Service's annual Career Week, presented by the AU Career Center, kicks off Tuesday, Feb. 2. Participants in the four-day series of workshops, panel discussions, and networking events will find inspiration and direction from SIS alumni, employers, faculty, and staff.

Students eager to volunteer abroad will find Tuesday's session, "Finding and Funding International Volunteer Experiences," helpful in selecting the right volunteer experience for them. Doing research is essential, said John Charles, an SIS career advisor, because "more and more students and alumni are interested in volunteering or interning abroad but there are challenges: How do I afford it? How do I know a volunteer-sending organization is legitimate?" Students will have the opportunity to talk with Zahara Hecksher, SIS/MA '02, about different volunteer options and funding.
For students who are sure they want to work internationally but are less certain about whether they'd like a career in government, the private sector, or an NGO, "Mapping Your Career in International Relations" on Thursday, Feb. 4, will be particularly useful. According to SIS career advisor Robert SanGeorge, "having a successful international career means having a plan to get yourself where you want to be. You need to identify your ideal job and start figuring out a plan by asking yourself "What qualifications do people have who are in jobs like this? What languages do they speak? What advanced degree do they have? And most importantly, what first—and second—jobs did they land that put them on a path to success?"
Students can gain answers to these questions by attending presentations and panel discussions as well as by talking one-on-one with alumni and employers at Thursday evening's networking reception. They can also learn networking techniques from Jim Wylde, SIS/MA '87, a renowned leadership coach, immediately before the reception.
Check out the complete list of SIS Career Week events and start putting your degree into action.