Alumni
Traveling Professors Wrap up Fall Tour; Look Ahead to 2010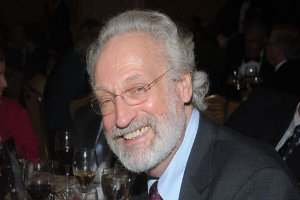 Did you know...

1. Robots take on space travel - less than 8% of space funding in 2008 was dedicated to human flight.
2. Culture is defined as the way of life of a people, passed down from one generation to the next.
3. Nearly 40% of the world's electricity generation comes from coal.  
If any of these facts are new to you, you're not alone. Hundreds of alumni from coast to coast attended one of the Faculty on the Road lectures sponsored by Alumni Programs this fall. From San Francisco to the Big Apple, alumni reconnected, reminisced about their schooldays, and even learned a few things in the process. 
In October, SPA dean William LeoGrande traveled to historic Boston to provide an insider's perspective on America's historically tumultuous relationship with Cuba, and postulated how relations might change in the post-Fidel era.  The Q&A session waxed on for quite a while – though not surprising, given the fact that our own dean LeoGrande is one of the world's preeminent Cuba scholars. 
Following the Boston stopover, three time zones away in San Francisco, SOC professor David Johnson entertained alumni with predictions about the future of social networking and the tweets of tomorrow. 
In November, alumni in New York City sipped coffee and tea while listening to SOC professor Matt Nisbett discuss the interplay between science, politics, and the media.  One week later, just up the road from AU in Baltimore, CAS professor Howard McCurdy shared his knowledge about space with a crowd of NASA enthusiasts.  
In early December, alumni in Denver braved the snow and sleet to hear SIS professor Gary Weaver, who has taught at AU for more than 40 years, discuss his recent publication, America's Midlife Crisis: Future of a Troubled Superpower.  As an expert in cross-cultural communication, he discussed the post-9/11 political environment and the future of U.S. and global relations. 
Perhaps the timeliest lecture of all – as the world's political powers gathered in Copenhagen for the climate change debates – AU alumni gathered in Philadelphia on December 7th to hear SPA professor Daniel Fiorino, a former U.S. Environmental Protection Agency official, talk about greenhouse gas trends, global CO2 emissions, and the future of sustainable and environmental policy.
  With hundreds of professors at AU specializing in everything from Cultural Anthropology to International Finance, the Faculty on the Road lecture series aims to bring a slice of the classroom experience to your hometown.  
Already itching to know the 2010 lineup?  Alumni Programs will unveil the spring schedule in January, so stay tuned.  What we can tell you already is that AU faculty will be lecturing in the following cities: 
Atlanta, Baltimore, Boston, Chicago, Los Angeles, Miami, and New York City. 
To suggest a professor or topic you'd like to hear, contact Alumni Programs at 202-885-5900 or e-mail involved@american.edu.