International
Radio Thrives in Sub-Saharan Africa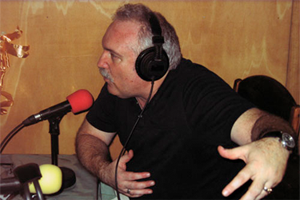 When he agreed to teach seminars in Liberia, Rick Rockwell never imagined that just getting to class would be a challenge. And then he experienced the seven-hour drive between Gbarnga and Zwedru in the uplands of Liberia.
"The national highway becomes a one lane road of dirt and mud," Rockwell said. "You never think about taking all day to cover about 175 miles when you travel. But you learn in Liberia to take nothing for granted."
Using generators and boxes of pre-printed handouts, Rockwell traveled through Liberia over the course of two weeks conducting multimedia lectures about radio for developing communities. Rockwell's trip was sponsored by the U.S. Department of State and a two-person team from the U.S. Embassy in Monrovia provided support throughout the trip. 
Radio journalists from more than half of Liberia's 15 counties traveled to the all-day sessions conducted in both Gbarnga and Zwedru. For some of these journalists it was their first-ever training session with an international speaker. For others, it had been almost a decade since similar training sessions were offered. Rockwell, who directs American University's International Media program for the School of Communication, developed a special curriculum on development communication for radio journalists for these sessions. But generating the energy and enthusiasm needed to teach all day in 90-degree heat wasn't easy.
 
"We had just one fan in Zwedru, and we used that to cool the projector, which still overheated. Luckily the Peace Corps director in town had a spare," Rockwell said.
 
And then there was the large poisonous centipede that crawled into the seminar in Gbarnga and curled up near Rockwell's foot. "That was certainly a first for me. One of the radio journalists immediately asked if we could take a break and he swept it out of the room with a stick."
 
Rockwell says he now wants to offer a similar course - minus the centipede - for students in the AU International Media program, which is a joint degree program administrated between SOC and the School of International Service.
 
"Radio is still the primary medium in Africa and radio journalists are finding ways to extend their programs to cells phones. Students in our programs want to be part of using these evolving media systems to work on improving basics in Africa like education, health, and the environment. So this was an opportunity for me to move beyond development theory and develop some practical course work," he said. "I hope down the line students will benefit from this opportunity and experience and take these lessons out to the field themselves."
The curriculum for the seminar program included programming for development with an emphasis on useful content for rural and agricultural areas, along with ideas for sustainability. The Alliance for Liberian Community Radio (which goes by the abbreviation ALICOR) requested the training initiative. In a letter to Rockwell after the seminars, ALICOR's Secretary General Emmanuel Johnson wrote: "I think all praises should go to you for the passion and concern shown in helping to mold the minds of Liberian journalists, especially at the community radio level."
"One of our discoveries during the trip was that there are no meteorological reports or zoned weather forecasts for Liberia beyond Monrovia," Rockwell said. At least a handful of sub-Saharan countries offer such reports, and "of course, this is something we truly take for granted in the United States. This puts Liberia at a competitive disadvantage," he noted. Rockwell continues to consult with the embassy on ways to provide this basic service for Liberia's community radio stations.