International
Political Will Is More Crucial Than Money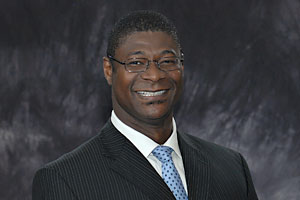 To talk with Kwaku Nuamah is to take a journey through the current state of African affairs. 
Ghana, Mali, Togo . . . the School of International Service professor can cite examples from all those countries as he makes his case that something more intangible than money underpins a country's ability to make progress towards peace and a better life for its citizens.

"There are a lot of little things that can be done to prevent conflict that don't require a nation to discover oil. Respecting human rights, transparency, and exercising good governance — all it takes is political will.

"If you have political will, it's cheap. If you don't have political will, you're in a different category altogether."
Nuamah's research in peace and conflict resolution looks both at what nations can do to ensure crises don't arise in the first place — known as structural prevention — and operational prevention, which is what can be done in an immediate crisis.

To ward off conflict before it begins, "Decentralization is one way of improving governance. It can allow civil society to flourish so the government doesn't have to deal with all the issues that come up. Decentralization is always an important step, because it brings the government to the doorsteps of the citizenry at a basic level where it can hold the government accountable. If it's done well, it can be part of the solution."
Unfortunately, he adds, "A lot of places don't have effective decentralization because we're dealing with fragile states that are scared, so they hold onto power."
Many Scenarios
Africa has provided him with a wealth of scenarios and case studies — some positive, some challenging — that also illustrate the continent's diversity. One promising example in recent years has been his home country of Ghana.
"Ghana is in a region that's very volatile," he says, "but it's done very well in terms of elections. One of the easiest ways to start conflicts is to rig elections. Since '92, Ghana decided it wants to hold transparent elections," and its improved governance has been accompanied by comparative stability, economic growth, and donor confidence.
"Respecting freedom, allowing civil society to flourish," he says, "this is where external partners play a role. A lot of things that happened in Ghana are because of Ghana's relationship with donor nations. Donors played a huge role in supporting civil society to develop their capacity — but more importantly, in making sure the government did certain things.
"Contrast that to the case of Nigeria. Because it has oil, it has been somewhat insulated from donors. They're insulated from external as well as internal pressures. A lot of countries that have these types of resources fall prey to predators, with the state itself being a predator."
Prospects and State of Affairs

What are the prospects in the rest of the region? Nuamah is cautiously optimistic.
"Sierra Leone has held elections, has a new administration, and seems determined to do well. Liberia, too. Other countries have done well — Mali, Benin.

"But there are a handful of states that have not embraced democracy at all: Cameroon, Burkina Faso, Guinea. Chad has not done well. In Togo, the president died and they put his son in his place. Gambia is a country that should not have the kinds of problems it has now."
As part of his work on mediation, third party leverage and other tools and processes of conflict management, Nuamah has also done research on Ethiopia and Eritrea.
"The problem with Africa is that sometimes the big things are bad, and the little things are also bad," he says. "These are weak states that are struggling – they can't always pay teachers, they can't pay police officers. So it's not going to be easy.
"But if you have the political will, you at least have a way to prevent these kinds of terrible situations . . . It's not that you won't have problems. Building a state is a process. It takes a while to get it right. But conflict is not inevitable. Hopefully, the governments or people who run for elections read things we put out and realize that a lot of things that can be done — transparency, elections, respecting human rights — don't take a lot of money. They just take political will."