International
University of Peace Awards Degree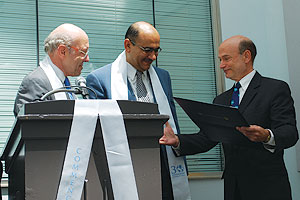 Dean Louis Goodman joined 20 students in receiving a degree at the May 8 graduation ceremony for the dual degree program, Natural Resources and Sustainable Development (NRSD), with the University of Peace in Costa Rica. 
For Goodman, it was an honorary degree marking his pioneering role in helping to create the program a decade ago. For the students, it marked the completion of two years of academic and hands-on study, including time at the United Nations–affiliated university.
"It's brought an opportunity to bring in students who look for experience both at the Washington policy level and at the grassroots development country level," said program director and SIS professor Judith Shapiro.
Goodman was presented with a doctor honoris causa in humane letters, by Rector John Maresca and Vice Rector Amr Abdalla of the University of Peace. The keynote speakers were John and Susan Marks, president and vice president of Search for Common Ground.